T.J. Miller's Mash Up Gets Picked Up For Series By Comedy Central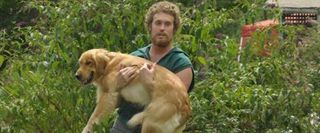 Comedian T.J. Miller has been on the fringe of fame for years, and now he is finally getting his own show. The funnyman and actor has been known recently for showing up to make brazen jokes along with Chelsea Handler on her late night show, Chelsea Lately, as well as making the perfect appearance in the underseen flick Our Idiot Brother as a free-loading hippie down to chill.
Last year, Comedy Central took a chance on an idea Miller and some of his buddies had called Mash Up, where they created sketches and short video ideas that were then taped by Funny or Die Presents… director Jordan Vogt-Roberts. If the whole thing is sounding a little like the bro-bonding seen in Jackass, featuring multiple comedians, including Miller, Hannibal Burress, and Matt Braunger sort of amps up the credibility of the endeavor.
Apparently, Comedy Central is pretty pleased with the idea of putting Mash Up to series, because they have already ordered eight episodes of the comedian-based comedy show to be produced. According to Deadline, in the upcoming episodes both well-known and unknown comedians will be featured prominently.
I did not see the Mash Up special last spring that cemented in Comedy Central executives' minds the idea the show could work. However, I have seen a little trailer Vogt-Roberts put together for Mash Up. Check it out, below.
Your Daily Blend of Entertainment News
Thank you for signing up to CinemaBlend. You will receive a verification email shortly.
There was a problem. Please refresh the page and try again.