TNT Officially Picks Up Southland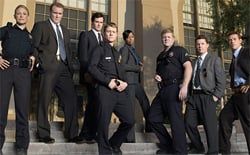 TNT isn't above picking up NBC's cast-offs and that's a good thing for fans of Southland. TNT made the official announcement today that they've picked up thirteen episodes of Southland. This includes the six unaired episodes for season two as well as the seven episodes from the first season.
As the network has a solid collection of dramatic programming, Southland should fit right in among shows like The Closer, Dark Blue and Saving Grace, all of which are also cop-dramas.
"We are extremely pleased that TNT has acquired all 13 episodes of SOUTHLAND, giving devoted fans the opportunity to watch a show that they passionately support," said Peter Roth, president of Warner Bros. Television.
I'm sure fans of the series are just as pleased to know that the news of TNT's Southland pick-up has been made official. Season 2 of Southland will premiere on January 12th and will air Tuesdays at 10 p.m.