TV Recap: American Idol – Boys Night – Back To The 60s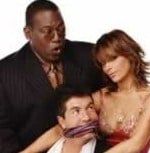 They say you should never stuff 10 pounds of stuff into a 5 pound bag, but American Idol always proves that the opposite is true once competition gets started. To me, the first shows, which features 12 boys on one night and 12 girls on the other over two hours, seems like putting 12 ounces of sugar in a sack meant for a ton. Everything is stretched soooo long for performances that are meant to last for a minute. Good thing Randy, Paula and Simon fight all the time or they would never fill out the show. And some of the contestants are so painfully awkward, that using Ryan's "interviews" as a way to kill time hurts even more. But enough about how the show works, let's get to the top 12 guys and see how they do:
David Hernandez - He says he's out to prove Simon wrong, which is weird since he made the top 12. He sings "In The Midnight Hour" with a slow church organ intro, which makes the first minute impossible to listen to. This song finally kicks in, but it's still pretty bland. The band's arrangement makes the song dull and the performance would be just an average audition if he sang like this before. Randy says he likes the gospel intro, but then it fell apart, Paula said the vocals were brilliant (which will set a tone for the rest of the night where Paula will be pretty much off-base on all 12 guys). Simon said it's better than he thought it would be, which means maybe David does have to prove Simon wrong, since apparently, he thought it would suck before David opened his mouth. By the time the show ends, you won't even remember David or even what he sang.
Chikeze (No Last Name Needed) – You'll remember Chikeze, but not for what he sings, but for what he's wearing. He has on a terrible burnt orange suit that looks like someone went for a spray tan and didn't bother to get naked. Also, like a good performer, he's only going by one name. Maybe more people should do that, but then most of the Idols you remember have only one name anyway. He sings "More Today Than Yesterday," which starts out shaky, then gets into a decent stride. The only bad part is most of this stride is done with him smiling like Carlton on The Fresh Prince of Bel-Air. Randy thinks it's old fashioned, and has to sound fresh while Paula says he's come a long away and he looks great. Simon calls him "Jacuzzi" (that was awesome) and thinks his suit is as hideous as the performance, which then provokes a fight with Chikeze. Chikeze tries to defend himself by saying he took a 60s song and arranged it into another 60s song, which is exactly what Simon thought was the problem. Chikeze's performance was neither great nor terrible, but more importantly, I'll be calling him Jacuzzi from now on.
David Cook – He's singing "Happy Together" without his guitar tonight. There is nothing happy about the first 30 seconds of the song, turning a cheery love song into a dirge. He achieves the goal of modernizing an old song, but that doesn't make it made it better. Randy says he didn't get the beginning, but David worked it out and by the end thought it could be an Alice In Chains song (as if this "Happy Together" could be any more depressing), and Paula pretty much parrots what Randy says. Simon thinks it was good and almost made it believable, meaning that David almost succeeded in turning a bubblegum record into a emo-ballad. Again, not terrible, but nothing special.
Jason Yeager – I don't think Jason has been featured on any episode really before, and if he was, he wasn't very memorable. He sings "Moon River," which is one of the corniest songs ever recorded. He's swallowing most of the notes in the beginning, and has some flat ones too. They say it's all about song choices, and this is a TERRIBLE one; his lows are too low, then his highs are way cheesy. Randy says it's good, but there were couple of problems, and thought that Jason spaced out a little bit. With that dull, WASPy performance, he was probably thinking of taking his best girl to the malt shop for a float with two straws. Paula tells Jason the song is harder that lots of people think, and that she loves the song because she it was played at her first ballet recital (which tells you how old the song is). Simon thinks it was a cruise ship performance and Jason is a dependable sheep dog (excellent analogy). I think it's so sugary sweet my TV needs insulin, and that Jason would be the guy they would give R&B songs to cover in the 50s so they could be played on white-only radio stations. Jason's time on the show will be a short one if he doesn't get some personality.
Robbie Carrico – This guy has a thing with hats and head wraps, which is odd considering he has a decent head of hair. The head wrap he's wearing tonight makes him look like Brett Michaels or Jami Lane from Warrant, but unfortunately, is the way they look now. He sings "One," in which he loses some notes but he does a pretty decent job with it. He put a modern rock vibe into a pretty drab song, and, finally after five singers, we get a vote-worthy performance. Randy says "he moved it," Paula agrees that he picked the right song and the vocals were "in the pocket," and Simon calls it the only "current" of anything tonight. Now if he can stop looking like he's on a comeback tour instead of being American Idol, he could do really well and make it to the top six guys.
David Archaletta – He's the kid with the older sounding voice. He looks a little goofy in his interviews so his performances have to really hit it. He sings "Shop Around," but when he has to sing below his range, his voice drops out. He also sounds like he's trying a little too hard to impress the voters at home and his voice cracks at one point. I think he doesn't sound comfortable, but the judges him high marks all around. Randy loves it and thinks it shows how mature is voice is, Paula liked the bold song choice, and Simon gushes that it's the best performance of the night so far. I'm really surprised by this reaction, but not as much as David, who is close to hyperventilating and fainting into Ryan's arms. I always thought David was good and will have a solid chance, but he just didn't really do it for me tonight.
Danny Noriega – They show him getting cut last year in Hollywood. He says he's bringing his swagger to the stage with "Jailhouse Rock" which is really from 1957, but since the producers of American Idol have a deal with Elvis Presley Enterprises, they're not going to argue. It's a song that you can't really do much with without doing an Elvis impression, so he did what he could with it. Randy describes Danny's performance as "kinda hot," Paula says his vocals are amazing but he picked a safe song, and Simon lashes out and says it was verging on grotesque and hideous. Paula and Simon start fighting over whether safe equals terrible. The weird part is they're all right to a certain extent, although "hideous" did see a little extreme. I think you can't be "safe" and "grotesque," since being safe means taking no chances. If anything, he should be criticized for not being over-the-top enough.
Luke Menard – Here's another guy who we haven't seen a lot of. He also tried last year and didn't even make it to Hollywood. He sings "Everybody's Talking," and takes a pretty song and puts the audience to sleep. Sometimes it's not the song choice, but the way it's arranged. He tries that Star Search thing where he thinks one note will bring it home, and it doesn't work. Randy says it's not great and pitchy, Paula puts it all on song choice, and Simon calls it forgettable and no one will remember it. Luke thinks people will remember this performance, but they won't have to, when he might have to sing it again on Thursday when he gets voted off the show, because he's definitely in the bottom two.
Colton (Kona's Boy) Berry – He thinks he looks like Ellen Degeneres, which is not a plus for a guy. Last week, I asked people to vote against him since he was the last person picked against Kyle, who I thought deserved the shot. He sings "Suspicious Minds" and makes it impossible to vote against him. Why? Because he really wasn't the worst of the week. At least he had more fun with Elvis than Danny did, and didn't put a drag on the song like Luke so the boy from Virginia gets a pass from me. Randy thinks he started rough, but it was pretty good, Paula says it's not his best, but fun, and Simon just gave him an OK. But I think that cheesy smile might be his downfall, and may want to do a real ballad next time to show his range.
(Leif) Garrett Haley – Looking like Peter Frampton and Leif Garrett in their prime when it's 2008 is bad. Maybe to get a more modern look, Garrett should wear Robbie's headwrap and so he'd look like Leif Garret at least today. His arrangement and performance completely destroy "Breaking Up Is Hard To Do." If you didn't know it was Idol, you might have thought they were rerunning a 70s variety show on Fox. Randy says it was boring, Paula thinks the slow tempo hurt the song and Simon seconds the boring opinion and adds that Garrett look terrified. Garrett has an excellent chance of going home, which means Neil Sadaka has another chance to roll in his grave (and he's not even dead yet), when Garrett sings his way into obscurity Thursday.
Jason Castro – He's going to be the first contestant to play instrument on the show. While strumming his guitar, he sings "What a Day For a Daydream." Playing the guitar really helped his performance. Having him do the song acoustic alone was a great idea. It reminded me of how John Mayer might have done the song, which was perfect. All the performers who can play really should, because even though it limits what you can on-stage, it can hide things like nerves and presence. Randy dug the guitar vibe, Paula was blown away and Simon put in the top two for the night (that he was right about). Jason was the best of night so far, but he was about to be knocked off the stage by the best of the night.
Michael Johns – The Aussie Boy decides to end the night with "Light My Fire." He puts a nice new twist on a song that's been done a thousand times. He has a a comfortable command of the stage and didn't over-sing the song. Seeing him makes Garrett look even more nervous and scared in retrospect. Randy compares Michael to true legend rock performer, Paula calls it great and Simon: deems him the most consistant. Jason might have more overall talent, but his spaced-out reaction after the judges's opinions shows that he's not ready for the big time. But Michael Johns is ready for his close-up. One more showing like tonight's and the guys' part of the competition will be over.
Another reason why I hate the two-hour American Idol is the how long is makes these recaps. I hope you're ready for another one when the girls hit the stage on Wednesday.
My Predictions:
Top Three: Michael Johns, Jason Castro, Robbie Carrico
Bottom Two: Jason Yeager, Garrett Haley (Garrett Goes Home)
Your Daily Blend of Entertainment News
Thank you for signing up to CinemaBlend. You will receive a verification email shortly.
There was a problem. Please refresh the page and try again.