TV Recap: American Idol – Hollywood: The Final Judgment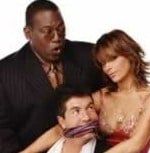 With all the changes American Idol made to Hollywood Week, it's good to know that the best parts of the final cuts before the live performance shows were still there: The Elevator and The Chair. I like the footage of the contestants freaking out on the way up to the judge's decision, as well as the reaction to the news on the way down. Also, with all the energy the singers have to show when performing, the contrast of seeing them squirm in the chair while Simon, Randy, and Paula toy with their emotions is great. And it's also a much easier episode to watch after the grueling two-hour Hollywood audition show.
The show started off with a lot of rejections, including Ronald. We didn't get to see Ronald last night, and after they showed his audition, it was easy to see why. His weird facial expressions while he sang kind of freaked me out. I can't believe he made it this far, considering Simon once rejected a contestant just because of his eyes.
Carly The Irish Girl, has already been rejected from Idol before, due to visa problems, and she had problems singing this time around because she's allergic to her own dog (that dog probably isn't going to be around in the Carly house much longer). Carly cried the entire time in The Chair, especially since Paula made a long, unnecessary speech, which was probably designed to make her cry longer. She ended up making it it to the big show, but I think her nervousness is going to get the best of her and she might go in the first couple of weeks.
Other yeses included David the left-handed guitar player (who will not do well once he's six-string-less) and Amanda the Janis-like rocker (who will have trouble the first time she has to do an R&B soul song). But David, the 16-year-old who all three judges love, got the most enthusiastic pass to the Guys' Round. They made a note to tell him that the youngest contestants always seem to have the hardest time, and he should remember that. David will do really well in the coming weeks, and I think he will make it to the final 12 that gets to go on tour.
Kristy Lee was one of the beauty queens they featured in the early weeks. But unlike Blondie Brooke from last night, she's more than just teeth whitening and tiaras. They didn't feature her much last night, and she may be more in this competition for her look than anything else, and it will be a surprise if she makes it to the mixed-gender shows.
Speaking of contestants named Brooke, the other blonde Brooke - the one with actual talent - also made it to the Girls' Round. While she was in The Chair, she pretty much said that if she didn't make it, she was done with music. I just think she looks too old to be the winner (and it doesn't help that she's so reminiscent to Carole King), and if they don't let her play piano, her visit on the show will be a short one.
They showed two quick hits with Danny, who once got to Hollywood and choked, and Remiele, who said her goal was to be the first Asian American Idol. Both of them go through to their final groups, but then the show featured Michael Johns, the Aussie. Michael has not had a bad audition yet, and I think he's the strongest on the guy's side. He has a cool accent, good look, and a great voice. I really can't see a week where he is going to be in the bottom two, unless he chokes immensely. When we get to the big finale in May, I'm sure you'll be seeing the Wonder from Down Under there.
Syesha lost her voice so badly on the show that she needed note paper to express how she felt about Idol. When she got to the chair, she had concern for her voice. But they put her though, and she screamed so loud, it might take a while for her pipes to recover. She could do really well, as long as her throat holds up. I think her ailments will be a running story in the next few weeks and will eventually lead to her getting thrown off when it blows out mid-performance.
They briefly showed two other guys who made it through. Robbie is a rocker with a head-wrap that makes him look like Brett Michaels. Brett, I mean, Robbie shouldn't make any long-term plans in Hollywood, because his stay on the show will be short and forgettable. But the other guy, Chikeze, is awesome. His early auditions were fun and his has a great personality. I can see him making it to the top five, and might give David and Michael Johns a run for their money.
Asia'h's Dad passed away and she's dedicating her run on Idol to him. It's good that she will have such good spirits on her side, because she is one of the most talented of the girl's. In fact, she is the girl I am picking to make it into the final two. She has a powerful sound and a look you can put right on an album cover.
I have been rooting for Josiah from the start. From the time they showed him in his house/car, to his weird English accent that only comes out when he sings, he was the one that was going to be the most fun to watch this season. So when the cut him, I was shocked. It pretty much came down to his awful audition last night when he told the band to get lost. But all the judges were sad to see him go, and he got the longest good-bye of anyone that night. It even seems that Simon wanted to keep him, but I think he just wasn't cut out for the competition. But I'm sure you'll be seeing Josiah popping up sometime – someplace – soon.
So it was down to the final four people. The last two guys were Kyle, everyone's favorite nerd, and Colton, whose boring look is only beaten out by his blah voice. It pained Simon to tell Colton that he was in and Kyle was out. Simon tells Kyle that he was 100% against him getting cut and he should try again for the show. I think this decision was awful. Colton seems like he's a dime a dozen, and there is only one thing to do: We have to get Colton off the show. I know you can only vote for people, but if you see a week where Colton does really well, try not to vote for him. Consider it a favor to me.
The last two girls were Cardin and Joanne. Joanne is a New York plus-sized model, and Cardin is a long-legged, almost too professional-looking singer. I was afraid that Simon would pick Cardin, and feature her on the show like that other girl with the short skirts from last year. But they made the right decision and put Joanne through to finish out the 24. And there you have it.
There were no hints on how the competition will start, but one thing is for sure, we get to make the cuts from now on. Predictions Best: Michael Johns, 16 Year Old David, Asia'h Worst: Robbie, Colton, Kristy Lee
Your Daily Blend of Entertainment News
Thank you for signing up to CinemaBlend. You will receive a verification email shortly.
There was a problem. Please refresh the page and try again.