TV Recap: American Idol – Hollywood – The Talent Is So Strong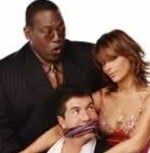 You know why I say the talent is so strong on American Idol? Not because I watched the two-hour Hollywood Week show last night, but because Ryan Seacrest told me about five times that "the talent is so strong" at this point in the competition. This "strong" argument is also the reason behind the change in the way the auditions are done before they pick the final 24 that start performing live next week.
One of the things they changed is that they got rid of the "Group Sing" part of the show. I think this was a HUGE mistake. What made some of the Hollywood shows so great was the interaction between the singers who they have to not only work together with one minute, but compete against the next. I liked the late-night fights, and the arguments that would last right up to the point they hit the stage. I think this really has to come back next year.
It turns out that "Group Sing" was replaced with instruments. For the first time, singers were allowed to accompany themselves on whatever they knew how to play. This led to a parade of guitarists, keyboardists, and even a drummer. The guy who played the drums, Jake, showed that before you can claim to be "multi-talented," you should first be "talented." He sang "Hooked On a Feeling" while banging away, and it reminded me of Murph and the Magictones from The Blues Brothers. He got ridiculed by the judges for his cheesiness, which will probably signal the end of instruments on American Idol.
But playing along did help some people. The first Brooke, the beautiful blonde who has never seen an R-Rated movie, gave a nice Carly Simon-70s feel to her performance while she played the piano. My only problem with her is that she looks older than she really is, so I can't see them putting her though to the final 24, because she's not going to sell records to a younger crowd. If Taylor Hick's album didn't bomb so bad, I think Brooke would have a shot. But American Idol is going to go back to a young pop star as the winner, and she doesn't fit, even though she got three yeses from the judges.
For a night that had a lot of montages, there were some stand-out stories and performances. I really liked Amanda, who sang "Light My Fire," which I normally think should be banned from all audition shows because they always come out corny. Amanda gave a solid rock performance, even with a set of cracked ribs and staples in her head.
David is a 16 year-old kid with a huge mature voice, and a goofy smile. I think he has a good shot of winning the whole thing, as long as his youth doesn't get the better of him. And Michael Johns, who is Australian, killed with a version of "Bohemian Rhapsody," which lent credence to my previously prediction of an influx of attractive singers into the US as Johns makes his way though the competition.
While some of the more gifted singers were going through to the round of 50, some of my most hated contestants were being sent home, and I couldn't have been happier. Galeb, who was the Julio Iglesias of American Idol showed that being a Latin Lover can only get you so far. They had more footage of him kissing girls than they did of him singing, and that was a good thing. His voice was terrible as was his smarmy smile, and even Simon started to grin as he was preparing to cut Galeb down. Also, the other Brooke, the beauty queen who wore her tiara to her first audition, got the ax as well. She got a yes from Simon, who just loves the look she has, and a no from Randy, which left it up to Paula, who REALLY wanted to say no, but it's not in her nature. So Brooke makes the dumb mistake of trying to sing while Paula is making the decision, even though she was told not to. I think it was the annoying way Brooke ignored what she was told that got her booted.
One thing I loved about last night was the saga of the two weirdest guys in the competition: Kyle and Josiah. Kyle was the nerdy guy who wanted to become President of The United States if he didn't make it to American Idol. When he was first shown, he was presented as one of those geeks who have no shot of getting through, until he wowed the judges with his voice. One thing about Kyle is that he always wears a tie on the show. Seriously, dude, LOSE THE TIE. I don't think he'll be getting an Aiken-like makeover, but at least he should loosen the top button. His first song for Hollywood week was "Love Grows Where My Rosemary Goes," by Edison Lighthouse, which is an AWFUL song. I didn't think it could be made more terrible, but Kyle's high-school chorus version was just embarrassing. Luckily he got another shot, and that's the one that got him into the 50-round.
Josiah had one of the more roller-coaster rides during the night. They showed Josiah getting into his hotel room and being excited about seeing a bed, since he's being living out of his car for months. His first performance was of "Grace Kelly," by Mika. He also played the piano along with his singing, which was a total home run. He could be the new Taylor Hicks with his "so odd, he's good" style. But he almost blew his whole chance by singing "Stand By Me" with a band and background singers, which was the point of the challenge. It was so bad and the judges were actually insulted by it. Simon even called Josiah "annoying." But, and this showed why they need four days of auditions to get the right mix of people, they put him through to the next round because of all the OTHER performances he did. Josiah almost falls apart after he hears the decision, which proves the judges couldn't tell the difference between arrogance and panic.
Because American Idol was two hours (which was far too long), I can't get to everything that was shown. I thought that Aisa'h showed that she could make the final two, and even though she was only on the show for two minutes, I thought she was worth mentioning. Wednesday's episode will get us (finally) down to the big 24 and the real American Idol starts. Then we'll really see the performers that deserve a two-hour show.
Your Daily Blend of Entertainment News
Thank you for signing up to CinemaBlend. You will receive a verification email shortly.
There was a problem. Please refresh the page and try again.