TV Recap: Big Brother 8 - The Final HoH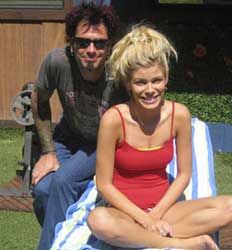 Well we should've seen this ending coming for weeks. On tonight's live episode of Big Brother, the final three houseguests went up against each other in the three-part head of household competition. Whoever won Round 3 would decide who they would take to the finale. Obviously, if Dick or Daniele won, they'd take each other. Personally, I would've loved to see a Zach victory, which would've given us a more unpredictable finale but that was not to be the case.
The episode began with the first part of the three-part Head of Household competition. For the endurance comp, the three houseguests stood on their perches, hopping over the rotating bar and occasionally being doused with cold water. Daniele appeared to have the hardest time with the water and shook like a leaf every time the floodgates opened up. She whimpered and cried for a bit and eventually mouthed to her dad to start going off on Zach.
Dick, in true Dick-form, started ridiculing Zach. He made fun of his teeth and his perception of himself within the game. Big Brother didn't air the part where Dick made fun of Zach's penis or the part where he called him a pervert. Once again, Dick gets a kind-edit from the producers. All the while, Daniele stood there, watching and giggling. Eventually, the coldness got to her and she fell off her perch.
Meanwhile, Dick continued trying to get to Zach, who just jogged in place, seemingly unaffected by Dick's insults. Eventually, Zach started laughing at Dick and making fun of his Spider Woman tattoo. Seeing Zach stand up to Dick under the conditions they were in was a moment of sheer greatness. With all of the crap Dick has slung at some of the houseguests, no one's ever really thrown it back at him.
After warming up in the shower, Daniele came out and tried to support her dad. She was kind to him as he stood there but after more than seven hours, he had enough and gave up. Dick actually cried in the diary room, being sad for having let Daniele down. Daniele told Dick that Round three is all that matters. No matter what, one of them will be going up against Zach.
For Round 2 of the Head of Household competition, Dick and Daniele had to swim down into a large water tank and collect a bunch of plastic curved lines. They had to put the lines into a second tank, which had pictures of the Heads of Household against the wall. Under water, they positioned the lines so that they traced the order of the Heads of Household from week to week.
Once again, water proved to be Daniele's weakness and Dick finished the competition in half the time it took for his daughter to do it. Daniele whined about her poor performance and said she just wants to get out of here. Zach, in the meantime, is looking forward to going up against Dick in a mental competition for Round 3.
The live show started up with Julie talking to the houseguests about the endurance competition. Dick repeated the fact that Daniele's support was the reason he was able to stay up there so long. Zach talked about being literally, physically numb to Dick's insults.
We next got to see the sequester house. Eric and Jessica are still all snuggly-wuggly and Amber commented on their being in love. Then Jameka arrived. Dustin says he, Amber and Jameka will be spending a lot of time together in the sequester house. When he started to reference Jessica and Eric, I thought he was going to make snide comment about them being responsible for his eviction and how he doesn't like them anymore. Instead he said "the walls are thin," implying that Jessica and Eric have been spending a lot of time alone. Dustin giggled at his own remarks and it was clear from the toast the sequestered houseguests shared, they're all on pretty friendly terms.
For Round 3 of the Head of Household competition, Zach and Dick stood side by side. Julie read statements from each of the houseguests on the jury. Zach and Dick had to guess which of the two listed answers was the correct remark. It was impossible to pay much attention to the questions because Dick was ahead by one point the whole time. Zach wasn't able to catch up and Dick won the final round by one point. Zach's probably wishing he'd used that Veto two weeks ago. Daniele would've gone up and been sent packing and perhaps he would've had a better chance against Eric or Jameka.
Naturally, Dick evicted Zach and declared himself and his daughter the winners of the competition. At least this time he was right. The Donatos will take first and second prize. Technically, Eric will have third place with his America's Player money.
In his exit interview, Zach talked about trying to establish good relationships with people and then eventually winning competitions when he needed to. He said Dick and Daniele were the best players in the game but that he thought Dick's tactics were terrible. He went on to say that he never officially aligned with Dick and Daniele so putting them up last week was an effort to win Jameka over should she end up on the jury.
Daniele's goodbye message was ridiculously phony. She was all "I really enjoyed getting to know you," possibly forgetting how she made fun of him for being creepy and trying to spend time with her. She also threw in how she didn't appreciate some of the things he said to her this week. It might've been better to leave that part out, considering he's going to the jury. A "no hard feelings" approach probably would've been the best way to go. That's the route Dick took in his goodbye message to Zach, anyway and Zach seemed moved by it.
So it's Donatos all around for the finale. Will the jury award Dick the grand prize after all of the nasty things he's said to them over the course of the summer or will they give the win to Daniele, who despite whining a lot, did win a lot of competitions? Will Eric be able to sway the jury towards America's choice for his final America's Player mission?
This poll is no longer available.
Your Daily Blend of Entertainment News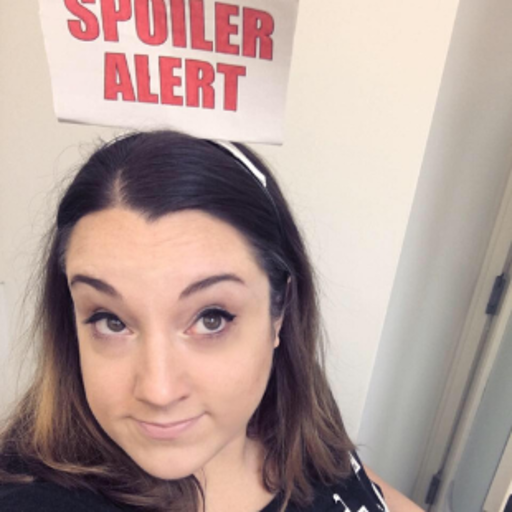 Assistant Managing Editor
Kelly joined CinemaBlend as a freelance TV news writer in 2006 and went on to serve as the site's TV Editor before moving over to other roles on the site. At present, she's an Assistant Managing Editor who spends much of her time brainstorming and editing feature content on the site.