TV Recap: Greek - No Campus For Old Rules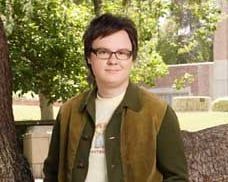 One of the things I love about Greek is that the writers throw in these little nuggets of classic pop-culture references for us "older" folks to chuckle at. And of course by older, I mostly mean at least a few years past college age. Some of these references are more obvious than others. Like tonight when Beaver chanted "Donna Martin graduates!" (a nod to the original 90210 series). While others are a bit more subtle, like naming Dean Bowman's random date Sloan. Anyone who recognizes Alan Ruck from Ferris Bueller's Day Off should've caught that one.
Anyway tonight's episode resurrected the whole U-SAG story arc. And in the words of Dale, "Resurrections rock." Along with the return of the Greek-hating student organization, this episode also marked the return of the ever-opinionated Tina. Cappie definitely made a good point tonight when he remarked on Rusty's fondness for girls who hate the Greeks. First it was Jen K. and now Rusty's latest crush is Tina, an equally active non-supporter of the Greek system. When Rusty asks her to be his date to the basketball championship conference game, Tina's all for it until she learns that Rusty obtained the tickets through the Kappa Taus, who won the tickets in a Greeks-only lottery.
Upon learning that the Greeks have exclusive access to these seats, Tina and Dale go on a protesting rampage and new life is breathed into U-SAG, which had started to sag (get it? Sag?). Their efforts prove successful as the dean and the board of whatever at the college suspend the tickets until the board can do a formal ruling. Cappie and some of the Kappa Tau's confront the dean and give him a taste of his own medicine by encouraging him to follow the same rules they have to. Bowman gets the message and tells Cappie that he'll give him the opportunity to speak to the board on the Greek's behalf and if they rule in his favor, the Greeks will get all of their privileges back and the restrictions will be lifted. That'd be good news for them and mostly good news for us except we might not get to see Officer Huck as much. Tonight's appearance by the campus security officer was especially amusing. After telling the Kappa Tau's off for exceeding the maximum decibel level, he quipped, "I haven't seen readings like that since the Hannah Montana concert. And I don't apologize for being a fan." Oh Huck, you strange, strange man.
So Cappie begins to prepare for his speech and Evan does a bit of preparation and research himself. Meanwhile, Dale manages to get 300 signatures for his U-SAG petition and also works hard on making a great speech so that he can be the "vessel through which those voices must be heard." When he delivers the speech to the board, he gets really worked up during it and earns himself a nice applause at the end. Then just when it seems like he's done, he goes on and starts quoting the bible. It's total overkill and that, added to the huge pit-stains under his arms and the cry of victory at the end totally undoes whatever good the things he said earlier might've done. Cappie gets two minutes to speak on behalf of the Greeks. He starts talking about the college experience and it being important to make mistakes now so they can learn from them before they get out into the real world. He runs out of time though and doesn't get to finish. Evan stands up and requests the opportunity to speak.
He basically picks up where Cappie left off and goes on to point out certain "mistakes" that some of the board members made during their college days. This includes Dean Bowman getting busted for growing "the hippie lettuce." Evan makes the point that Cappie was working up towards and the Greeks get off probation. Yay!
Meanwhile Casey's having trouble with the pledges thanks to Rebecca. Because of a rule that says that any sorority girls can't participate in some spirit thing at Dobblers if they missed mandatory study hours. Casey's all fine with enforcing the rules and keeping the pledges from participating in the party. Then she finds out that Ashleigh also missed study hours. Casey decides to pardon Ashleigh for her missing study hours since she missed them because she was busy doing something for the sorority. Rebecca and her recently acquired pledge minions dislike Casey's favoritism and make a stink over it.
Against Frannie's advice, Casey publicly apologizes to all of the ZBZ's for favoring Ashleigh and says it was a mistake. After this, Rebecca and the unnamed annoying pledge girls give Casey an even harder time. It's only after Casey asks Evan for advice and he points her in Frannie's direction that Casey finally gives in and asks Frannie for help. Frannie says give the girls a chance to speak their mind then shut it down. When the girls start speaking their mind, all hell breaks loose and Casey finally takes charge and tells the girls to get over it and start behaving like ZBZ's.
And that about covers it. Not sign of Calvin and his new guy this week but on the love-front, Rusty hooked up with Tina. Also, while Frannie really came through for Casey tonight, did anyone else catch the tone in her voice and look in her eye when she found out Evan advised Casey to seek her advice?
With that, I'll leave you with this little exchange of words between Cappie and Evan (whom I suspect are slowly becoming reluctant friends):
Cappie: That's because the Kappa Tau's still know how to have fun. You know, fun, Evs?
F - U - ?
Evan: N?
Cappie: Nope. That's it.
Your Daily Blend of Entertainment News
Assistant Managing Editor
Kelly joined CinemaBlend as a freelance TV news writer in 2006 and went on to serve as the site's TV Editor before moving over to other roles on the site. At present, she's an Assistant Managing Editor who spends much of her time brainstorming and editing feature content on the site.