TV Recap: Hell's Kitchen - The Final Countdown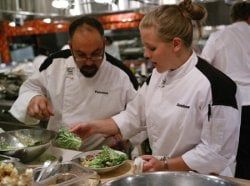 Previously: 15 chefs, most of whom I have completely forgotten about, came to compete on Hell's Kitchen. It didn't go very well for most of them. Remember when Matt made Ramsay vomit? Ah, good times.
I completely forgot about this episode. I thought it would be the finale, but instead it's the completely inconsequential lead up to the finale. Ramsay is splitting the restaurant in half and pitting Christina and Petrozza against each other for the win. After elimination, Ramsay sends them up to the dorm to write their menus. Christina gets cracking, but Petrozza has writer's block. By the next morning, Christina has her menu locked, but Petrozza is completely lost.
Petrozza and Christina meet with the restaurant designers. While Christina has a very straightforward idea of what she wants, Petrozza is like Julia Roberts planning her wedding in Steel Magnolias. While the words "blush" and "bashful" never actually come out of his mouth, the man does go crazy for flowers. He basically wants his tables covered in them.
When it comes to what the staff will be wearing, Christina opts for all black, while Petrozza goes straight for the celadon green chef jacket-inspired waiter uniform. I'm not excited about either one, really. Christina's idea of black suit with a black t-shirt just screams "Guido" to me, and that celadon chef's jacket thing that Petrozza has fallen madly in love with is just hideous.
Fact: Chilean sea bass is one of Petrozzas favorite things to put in his mouth.
Christina wants her menu to be "comfortable and approachable," while Petrozza is going for sweetbreads and an entire roasted duck. While Christina continues her no-nonsense attitude, Petrozza does finally manage to get his menu together.
After they plan their menus, Ramsay calls both of them into his office to tell them that he's really concerned about their restaurants. He also tells them that he's been wondering if he has the right finalists. Dun, dun, DUN! Then he follows it up with, "now I know I do!" Aw, how heart-warming. I don't believe it at all, but it's still a nice thing to say. He also tells them that they're going to visit his restaurant in New York.
When they get to New York, Ramsay takes them directly to Times Square. What's really interesting is that there seems to be a pretty big crowd of people standing behind police barricades watching the filming. I find this odd, because I used to work in Times Square and crap was filmed there all the time and no one really cared. TRL routinely had to bribe people to stand outside the studio and act excited for the cameras—which is how I came to own Hitchhiker's Guide to the Galaxy on DVD. Thanks, MTV!
So that paragraph above this one? That would be filler. You'll recognize it because it's what this episode is entirely made up of.
Holy crap. I've got to say I'm really impressed. The trip to New York isn't their entire surprise. Ramsay is flying them both to Dubai for five nights so they can go to his restaurant there. I know that it's not terribly uncommon for a reality show take contestants to another country, but still. I didn't think this particular show would do that. But wait. When is this happening. Doesn't Hell's Kitchen open in like, 35 hours?
Ramsay takes Christina and Petrozza to his restaurant, London, to check out the kitchen. It is of course, the cleanest kitchen in the universe. He gives them their final challenge: to cook their signature dish right then and there. Petrozza prepares filet mignon, while Christina makes a N.Y. strip steak.
Hell's Kitchen continues to go all out by flying in all five of Ramsay's executive chefs from around the world to judge the final challenge. The first chef to receive three votes will win. Although the first chef thought Petrozza's paint brush thing was stupid, he chooses it as the best. Petrozza nabs the second vote as well. The third chef, of course, chooses Christina, so we can keep the competition going. The fourth chef, who looks a lot like Jason Mraz, keeps it going even longer by choosing Christina and tying up the score. The tie-breaking judge will also be the winner's boss at London West Hollywood. Even though Christina gives him eyes, he chooses Petrozza for the win. For his reward, Petrozza gets to pick the first chef for his team on his final dinner service.
After judging, Whoopi Goldberg randomly shows up to say hi to the chefs. And then that's it. The chefs leave to go back to L.A.
Oh. My. God. Petrozza's restaurant is like an old woman's living room. It's filled with heinous flowers and disgusting wallpaper. Christina's restaurant is striped and she hates it. It's not good, but it's not nearly as bad as Petrozza's. She comes up with an alternate vision though, and the designer agrees to paint over it.
The next morning, Ramsay calls them downstairs to choose their teams. Bobby, Ben, LouRoss, Matt, Corey and Jen all come back to help out. Petrozza gets to choose first and goes with Bobby. Christina chooses Corey. Petrozza follows that up with Ben, while Christina goes with LouRoss. That leaves Jen and Matt—and the episode is over! They don't even tell us who the teams are. Ugh. So much filler for so little payoff. To me, this is pretty much a waste of an episode. At least next week will be good.
Next Week: Finale!
Your Daily Blend of Entertainment News
Your Daily Blend of Entertainment News
Thank you for signing up to CinemaBlend. You will receive a verification email shortly.
There was a problem. Please refresh the page and try again.