TV Recap: How I Met Your Mother-- Slapsgiving!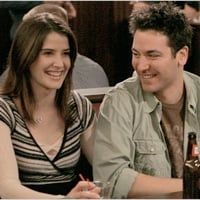 Happy Slapsgiving, everybody! Yes, you heard me correctly. If you've been watching SlapCountdown.com, you know that TODAY IS THE DAY. Or, rather, today was the day. If you clicked on that link, then you know you missed it. But you also know that the relevant clip is already on YouTube, so hey, don't fret too much. Tonight's episode of How I Met Your Mother, one of the last we'll get before the strike, was a major success. *salutes* Major Success! Wait, what? Yeah, that's what recaps are for.
1. "General knowledge... corporal punishment... colonel stuck in my teeth." You know the couple who's full of inside jokes, and burst out laughing when no one understands why? Yeah, Ted and Robin used to be like that. Whenever anyone says something that could be a military rank-- "major", "general," "corporal" etc.-- they would salute and repeat it: "Major bummer!" Yeah, Ted and Robin are nerds, but we knew that already. Since they've broken up, though, the inside joke has died, as has their entire friendship. Ever tried to stay friends with an ex and wind up glossing over the remaining awkwardness? Yeah, Ted and Robin are like that now. But don't worry, they're fixing it by making it even more awkward!
2. "The only reason I'm jealous of Bob is because we can talk about the first Thanksgiving, but he was actually there." As Thanksgiving approaches Robin is seeing a new man, who is in his 40's but Ted imagines being as old as Orville Redenbacher. When Ted and Robin wind up making pies all by themselves, a lot of awkwardness comes to blows-- Ted says he's only jealous of Bob because "he invented fire," or that "Noah gave him shotgun in the ark," while Robin tells him to, uh, chill out. They finally make amends, but this is Ted and Robin we're talking about, so what happens next?
3. "Relapse five!" Well, that's Barney's reaction at least. "That's when we high five, then it's awkward for a little bit, then we high five again!" Marshall and Lily, on the other hand, insist to Ted and Robin that they finally have to talk about what happened between them. Locked in Lily and Marshall's room-- "And if you have sex again, neither of you gets dessert" Lily yells-- Ted and Robin realize that maybe they can't be friends after all. They walk out ready to face the dissolution of their friendship, but much more important things are going on.
4. "We can watch the Slapsgiving Day parade." Marshall posted the slap countdown website months ago, and now that the day has arrived, he taunts Barney much in the way Barney might taunt anyone else-- working the word "slap" in as much as possible. Barney thinks he's counted down to the day after Thanksgiving, but it turns out he counted the wrong number of days in October-- just like when he turned up dressed as Borat on October 30, in a hilarious sight gag flashback. Barney tries to convince Marshall that telling him when the slap is goin gto happen ruins the suspense, but when the time comes, Barney crumples: "You're allowed to slap my face sir, but you are not allowed to slap my mind." Lily decides that Slaps--uh, Thanksgiving--needs to be a peaceful holiday, so she, as slap commissioner, tells Marshall he can't slap Barney that day. But wait!
5. "And as a special bonus I've composed a song just for this occasion." Barney, true to form, gets to be so obnoxious when he knows he can't be slapped that Lily decides, as SlapCountdown.com reaches 0, that Marshall can slap Barney after alll. And oh, is it epic! So what do they all do next? Sing a song, of course! Having seen this video it was all the more satisfying, knowing that Neil Patrick Harris and Jason Segel have such serious pipes. Also, even though Barney was nursing his poor bruised face, he was singing along! The true meaning of Thanksgiving: we gather 'round and give slaps.
There were so many truly great moments in this episode-- Bob bringing Jello shots to Thanksgiving, Robin not being able to take a hint from Lily, "When I pulled you out of that burning wreckage, I wasn't doing it to get a battleship named after me"-- that I can't even recap them all. Going into this Thanksgiving holiday in which I barely have any television left to give thanks for, I'm glad the HIMYM crew is pulling the stops out for us before they-- sob!-- go dark for a long, long time. God bless us, everyone!
Staff Writer at CinemaBlend
Your Daily Blend of Entertainment News
Thank you for signing up to CinemaBlend. You will receive a verification email shortly.
There was a problem. Please refresh the page and try again.