TV Recap: Ugly Betty - Crimes of Fashion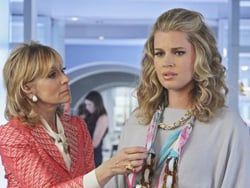 On this week's episode of Ugly Betty; Betty goes Colombo with the case of the surrogate pushed down the stairs. But don't worry, Betty's on the case (I know it sounds cheesy but it's actually high-larious, trust me).
Daniel and Betty are both back at Mode and Willie's back in the Creative Director role. Betty's already having a bad morning because the umbrella she keeps in the hallway of her building was taken. Um, really, Betty? Anyways, so she gets to work and everything's going well because she's back where she belongs. That is, until Mark announces that Willie's baby's okay even though it's in the hospital. Of course he doesn't know how Christina is. So much for the day turning out okay.
Christina doesn't remember anything, unfortunately, so there's no where to really begin the investigation. The police start with Betty, though. She didn't do it, of course but when she's asked if she knows where Daniel was last night, she cracks under the pressure and admits that he asked her to lie if anyone asked her that question. Daniel couldn't have done it, could he? The police think so but before you blame it all on Betty, there was a major piece of evidence: The culprit left size 11 footprints in the dust at the bottom of the stairs and the outline of the shoes was a one-of-a-kind design made specifically for Daniel. Ruh-roh.
Like I said, don't worry, Betty's on the case. She starts with Amanda, who doesn't really know anything but is still a highlight of the episode. Frakking hilarious. Even though Amanda wasn't paying attention to Christina that night, she did notice Mark yelling at Wilhelmina so off to Mark they trot. Turns out that Mark did yell at Wilhelmina that night but it's not what you think. There's a Willie mannequin made for fittings and when Mark's fed up, he pulls out the doll and tells her what he wishes he could tell the real Wilhelmina. He even slapped her. Yup, as Amanda says, "hardcore." Seeing the shock on Betty's face at his admission, let's face it, we all thought he was just purely Willie's lap dog, he also admits to wanting to move up in the publishing world just like Betty. Back to the real mystery, though. Mark has the best lead so far. On his way out, he pushed Christina away from the elevator and as the door closed, Claire Meade was coming straight towards poor Christina.
Unfortunately, all Claire can remember is giving in to temptation after a hard night of fighting with Willie. It's not that, though. She went back to the one comfort that's always been there for her; alcohol. But, like Claire says, she can't stop at just one drink and after a little prodding, she remembers Christina taking her into the bathroom and passing her off to Alexis. But Alexis took Claire home right after that. And Betty has no where else to turn. She's running out of both faith in Daniel and time. The police already arrested Daniel and he needs to be cleared before the trial. But maybe he did do it? Could he have? Just when Betty didn't think she'd ever know for sure, she finds the security tapes from that night in Daniel's briefcase. No, not sweet little Daniel.
Betty runs home to watch the tape. Expecting the worst, she was glad to see Daniel screwing some girl on a copy machine. But why would Daniel want to keep this hidden when he could go to jail for attempted murder? When Betty confronts him, he says the woman is from the State Department and he didn't want it to look like he was sleeping with her so she would help him keep DJ. See. There's always a simple explanation. But who did push Christina? Betty talks to her again in the hospital and she admits she had a fight with Stewart. Could he really have pushed his wife, though?
I guess Betty has good timing because Stewart walks around the corner just then. But he didn't push her and he's not back on drugs. Turns out, Stewart's treatment didn't work and he's dying. Instead of letting Christina think that's he's on drugs, Betty tells him to be honest with her. This, of course, devastates Christina but Willie is by her side. Okay, so she isn't so much by her side than putting on a show for all of the photographers and reporters holing up in the hospital. When Christina tells Wilhelmina about Stewart, though, she shows why I like this show so much. Willie closes the blinds and sits by Christina's side. Seriously, how many characters do you hate but still like all at the same time? Good stuff.
So now Betty is out of suspects. Just because she's out of suspects doesn't mean she can't revisit some of the old ones. Especially after Daniel says that Alexis borrowed his coat, which was all dusty the day after Christina was pushed. Come on, you know who did it, don't you? I'll let you think about it for a second.
Meanwhile, in Queens, Hilda's secret affair is found out by her dad. And he is not too pleased when he finds out the coach is married. But Hilda says it's over and eventually Dad gives her the old sitcom hug to signify all is well. Personally, all is not well with me and the coach. What the frig is going on with that whole marriage thing. I need to know if he's really a creep or not because I heart Hilda and she's had enough heartbreak. I guess we'll see what happens there.
Okay, did you figure it out? Yeah, Alexis pushed Christina down the stairs. And before you get any really evil thoughts, she didn't try to frame Daniel. On her way out, her heel broke and she borrowed the shoes in Daniel's office. Alexis couldn't control herself. After the fight with Willie, she couldn't see Christina anymore. All she saw was Willie's head taunting her. She pushed her down, then ran to check if she was alive and called 911.
So Alexis turns herself in and everything's good. Well, I mean, Alexis is going to jail but at least she's the one who really did it. Betty even went home to find her umbrella back in her stand with a thank you note from her neighbor. But before you think everything always ends up sunny in Betty's New York, Alexis did have one more confession to make. This time, it was only for Claire to hear. Turns out Alexis opened Daniel's paternity test results and found out he's not DJ's father. That's not the don-don-don part: Alexis is DJ's biological father.
I know. Cheesy and soapy goodness.
Your Daily Blend of Entertainment News
Thank you for signing up to CinemaBlend. You will receive a verification email shortly.
There was a problem. Please refresh the page and try again.