TV Review: 10 Things I Hate About You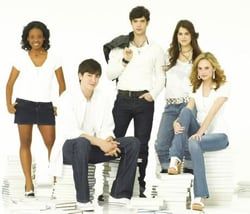 When I heard ABC Family was doing a small screen version of 10 Things I Hate About You, I had mixed feelings. On the one hand, I loved the film and thought it would make for a great series. On the other hand, I loved the film and felt mildly concerned that the network might have trouble squeezing a full series out of the movie. Having screened the pilot, I'm happy to report that 10 Things "the show" shows a lot of promise.
The film, in case you never saw it, stars Heath Ledger and Julia Stiles and is a modern day take on Shakespeare's The Taming of the Shrew. The story follows two sisters, one popular, one rebel. Bianca is the younger, Barbie-esque sister who longs for popularity, while her older sister Kat loathes anything to do with the social elite. Since their father won't allow Bianca to date until Kat does, believing his eldest daughter will be long out of high school before she decides to explore romance, Bianca buddies up with Cameron, the new kid in school and they attempt to get Kat to date Patrick Verona, the school badass so that Bianca's free to start dating. That's the essential premise of the film and from the pilot of this new ABC Family series, they aren't deviating much from the format. Except in this case, Kat and Bianca are the new kids in school, rather than Cameron.
We're introduced to the two sisters, Bianca (Meaghan Martin) and Kat (Lindsey Shaw) and their overprotective father, played by Larry Miller (reprising the role he played in the film) immediately as being new in town. Bianca and Kat's mother passed away, leaving dad to make sure his daughters grow up well and avoid pregnancy if possible. He's an obstetrician and very intent on making sure no guy puts a baby in either one of his daughters. While Kat's content on being feared by anyone who crosses her path (or her car), Bianca is desperate to become popular at Padua high school and wastes no time sucking up to Chastity Church (that's seriously her name), the school's head cheerleader and queen bee.
Cameron spots Bianca right away and is instantly in love but because he knows he's a dork, he's not all that confident that he'll be able to win her over. Meanwhile, Bianca has numerous run-ins with the mysterious Patrick Verona. She's not intimidated by him, which intrigues him. And thus begins the story of the series.
Will Bianca manage to achieve popularity? Will Cameron be able to win Bianca's heart? And how long will we have to wait until the sexual tension between Kat and Patrick comes to a boil? I doubt a lot of what's to come will be all that hard to predict but that's not entirely a complaint on the series. In fact, this is the perfect show for the summer for that very reason. The series is exec-produced by Greek's Carter Covington and the clever and oftentimes amusing dialogue between the characters mirrors ABC Family's Greek nicely.
As for the acting, all of the principles carry their roles well. Lindsey Shaw does a great job of making Kat tough without being too abrasive. Meaghan Martin's portrayal of Bianca is just the right blend of cute and insecure, as is Nicholas Braun's Cameron. Ethan Peck plays Patrick Verona very well. He seems to have managed the calculating stare quite nicely and his voice… well, just wait for him to speak. Finally, I have to give big credit to Larry Miller. I loved him as Walter Stratford in the film and from what I can tell, he hasn't done a thing to alter the character for the TV show, which adds a nice layer of panicky-dad humor to the series.
I set my expectations kind of high for this series, given my love for the film and the pilot definitely didn't disappoint. It caters well to teens and young-adults and like most of ABC Family's other original series, will probably appeal to people outside of those age demographics as well, making it a fun, family-friendly show with a little bit of edge to keep things interesting.
10 Things I Hate About You - Series Premiere
Starring: Lindsey Shaw, Meaghan Martin, Larry Miller, Ethan Peck, Nicholas Braun, Dana Davis
Premieres: Tuesday, July 7 at 8:00 p.m., ET on ABC Family
Assistant Managing Editor
Kelly joined CinemaBlend as a freelance TV news writer in 2006 and went on to serve as the site's TV Editor before moving over to other roles on the site. At present, she's an Assistant Managing Editor who spends much of her time brainstorming and editing feature content on the site.
Your Daily Blend of Entertainment News
Thank you for signing up to CinemaBlend. You will receive a verification email shortly.
There was a problem. Please refresh the page and try again.