TV's Soon-To-Be Breakout Stars of 2014: American Horror Story Director Alfonso Gomez-Rejon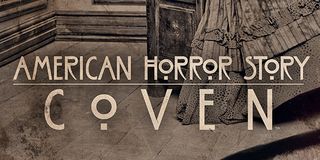 After going through the motions of highlighting everything that was good, bad, amazing, or generally confounding about the year that was 2013, we felt it was time to look ahead. To not only make note of things we want in the form of resolutions, but to set a course for the deserved to get their due course. So we've decided to highlight these perfect TV storms to let you know who's on the cusp of making it big in 2014. Previous subjects include Heléne Yorke, Hamish Linklater, and Tracey Wigfield. This week we're celebrating all things Alfonso Gomez-Rejon, the director and visual voice behind television's creepiest companion, American Horror Story: Coven.
Heading into the finale of the third season of AHS, it felt only appropriate to single-out the man behind the lens. Though he got his start working as a PA on film sets, it is his work as an innovative director on American Horror Story that has brought director Alfonso Gomez-Rejon's playful work front and center. Through a mind-bending series of shooting techniques both curious and chaotic, Gomez-Rejon has managed to capture and illicit emotional and cinematic greatness on the small screen, elevating Ryan Murphy's series of gruesome gore and horror into a thrilling and evocative ride.
One of the highlights of Gomez-Rejon's tenure as the visionary that makes Murphy's madness work, was his direction of the second season finale of American Horror Story, "Madness Ends." In it, Gomez-Rejon lops the camera around the scene with unnerving flare and fastidiousness, ensuring the creepy-crawling climax of the Asylum-based series feels as mad as its inhabitants. A myriad of techniques are utilized: from 70s-style documentary shooting, extreme close-ups, and even a flipped on-its-head turn under a table to reveal the episode's ultimate slap. It's visual storytelling porn in the best way, and the landscape of AHS makes it a much more fitting ground for such risk-taking compared to, say, Glee, where Gomez-Rejon has also directed.
What Gomez-Rejon does is different while still remaining somewhat referential, smart and spunky in equal measure, with a razor-sharp focus on heightening the emotional capacity of Murphy's most unsettling series. His risk-taking turn behind the lens has resulted in shots that not only complement the stories taking place on screen, but imbue them with an added layer of emotional needling all their own. Everything — as is the case so often in life — has an angle all its own, and Gomez-Rejon makes a point to try new angles literally as well as figuratively, and the resulting work makes a serious pay-off.
It's not easy to do that, particularly on a show as driven by a single voice as any Murphy production seems to be, but Gomez-Rejon has managed it. Where some directors might go for something more traditional and expected, Gomez-Rejon pushes the envelope in unexpected ways, ensuring that whatever project he hops on feels fresh and new.
Outside of his work with Murphy, Gomez-Rejon is hardly wont to dally, directing a Super Bowl commercial last year, and also having worked as a personal assistant to some of the greats: Martin Scorsese, Nora Ephron, and Robert De Niro to name a few. With that sort of pedigree under his belt, we're expecting continued greatness from Gomez-Rejon. TV needs more visionary directors like him, and when you consider the strides he's made career-wise in 2013, we're certain 2014's going to be a banner one for him.
Your Daily Blend of Entertainment News
Thank you for signing up to CinemaBlend. You will receive a verification email shortly.
There was a problem. Please refresh the page and try again.