Taylor Kinney Joins Dick Wolf's Firefighter Drama, Chicago Fire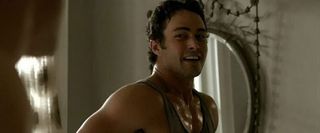 A few weeks ago, NBC announced two pilots had been given the green light: a medical drama called County and a firefighter drama, set in Chicago and aptly titled Chicago Fire. In the weeks that followed, County announced several castings, including Jason Ritter and Michael B. Jordan. However, other than casting Eamonn Walker, Chicago Fire has been fairly quiet on the casting front. That is, until now.
NBC has cast Taylor Kinney as one of the leads in Chicago Fire, an ensemble drama that will give a detailed picture of the men and women comprising the Chicago Fire Department. Kinney is best known for a stint on The CW's Vampire Diaries as a troublemaker werewolf, and later, a ghost. According to Deadline, Kinney's role will be far less supernatural this time around. Kinney is set to play Squad Lieutenant Kelly Severide, a man with the drive to jump into the most dangerous situations.
The whole thing is coming from Law and Order creator Dick Wolf's company, Wolf Films, alongside Universal TV. Because of Wolf's track record on the Peacock Network with theLaw and Order franchise, this new show has earned lots of buzz since it was announced. Even though NBC has plenty of shows focusing on heroic jobs -- including cops, doctors, and firefighters -- coming up in the fall, I do believe Chicago Fire has a large chance of succeeding. Who won't show up for Dick Wolf, at least for a few episodes? Don't tell me you never caught at least a few episodes of Law and Order: Criminal Intent.
Your Daily Blend of Entertainment News