Teen Wolf's Colton Haynes Reportedly Exiting The MTV Drama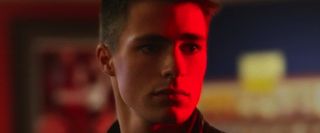 It's always a shame when an actor exits a TV series due to problems with contract negotiations, especially given the kind of affect it can have on a show if their character was supposed to stick around. Take, for instance, Colton Haynes, who plays Jackson Whittemore in Teen Wolf. While it's likely that there were plans for the character, we may not see them play out as reports are saying that Haynes is set to exit the series.
According to E! Online, Haynes is exiting the series due to failed contract negotiations. Reportedly, a lucrative offer was made to the actor to do two more seasons (48 episodes). E!'s sources says the offer committed to Haynes appearing in 12 of the third season's 24 episodes, and that offer "didn't make sense for him" according to their source. There's also talk of a role in a new pilot, which may have played a factor in his decision to walk.
This report came following a Tweet Haynes posted implying that he was leaving the series:
After getting bitten by a werewolf at the end of Season 1, Haynes' character Jackson spent Season 2 not as a werewolf, but as the vengeful Kanima a shapeshifting beast. But at the end of the season, the Kanima was gone and Jackson finally turned into a werewolf with blue eyes (unlike the usual yellow). Teen Wolf showrunner Jeff Davis said there's a reason Jackson's eyes were glowing blue, which implies that there's more to the story there, but if Haynes isn't returning, we might not get to hear it - unless they recast him. That would be interesting, though something tells me fans of Haynes wouldn't appreciate that. Still, if the character is a big part of the story they have in mind for the upcoming third season, maybe they will. E! says that because they weren't sure if he'd be back, Jackson is not included in the first five episodes of Season 3, which are already written.
As for Haynes, assuming this is the real deal and he's definitely not coming back (E!'s source says there's still a chance he could come back), it'll be interesting to see where his career goes from here. On one hand, Teen Wolf is a successful show on MTV that could only get even more successful in its later seasons. He might regret walking away just yet. Or maybe he'll go on to do something huge that really blows up his career. Time will tell.