Tentative WGA Deal Made; Strike Could End Wednesday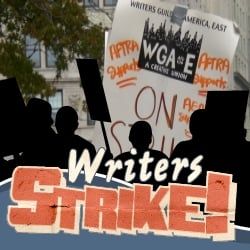 After a solid week of heavy speculation, the day TV fans have been hoping for could be just around the corner. The WGA and the AMPTP have reached a tentative deal that could bring an end to the 3-month writers strike as early as this Wednesday. Yesterday, both WGA East and West held membership meetings, and while the writers had a great deal of questions, the mood was generally positive. One writer who attended the West Coast meeting said, "There is no question in my mind that because of the atmosphere in that room this strike will be called off. There is no gearing for a fight. It's over."
While the tentative agreement is contingent upon the strike being called off immediately (which would put the writers back to work on Monday), it looks as though WGA leadership is going to delay any decision about the strike in order to allow its membership 48 hours to look over the deal points, which can be found here. This 48-hour review process will put the writers back to work on Wednesday, providing that they agree to the deal being offered. After the review, there will be a 10-day balloting process that will allow members to formally accept or reject the new deal.
If the strike does in fact end Wednesday as it is likely to do, not only will the full Oscars show go on as planned, but the back 9 episodes of many of this season's shows will still be able to be produced. In addition, while it will be truncated, we will have some sort of pilot season next season as well.
While the deal is of course not perfect, the writers seem to have made gains in a number of areas, especially the critical New Media. One of the last remaining trouble spots involves a "favored nations" clause with SAG. Right now, the WGA has a verbal agreement that if when SAG negotiates in June they receive a better New Media deal than the WGA, then the WGA will automatically receive that same deal. WGA not only (understandably) wants this in writing, but would like to get it for areas besides New Media. Whether this happens or not remains to be seen, but as far as the immediate impact on Hollywood, the outlook is good. A WGA member who attended last night's East Coast informational meeting said, "I'll stop short of calling it a love fest, but not all that short. Legit questions were raised and respectfully answered. Again, no defensiveness. There was an informal applause poll, and the room was overwhelmingly in favor of ending the strike before a membership ratification vote."
Let the countdown to good TV begin.
Your Daily Blend of Entertainment News
Your Daily Blend of Entertainment News
Thank you for signing up to CinemaBlend. You will receive a verification email shortly.
There was a problem. Please refresh the page and try again.