Thanks to Celebrities, The Apprentice Gets A Second Season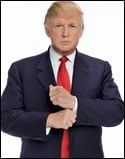 It doesn't seem that long ago that Donald Trump and Martha Stewart were fighting over who killed The Apprentice. When Martha's edition of the reality competition tanked, she seemed to bring the entire franchise down with her, causing His Donaldness to take it out on the Domestic Goddess, and NBC leaving the show for dead. But thanks to the new celebrity-fueled version of the program (oh yeah, and that writers strike leaving gaping holes in prime-time schedule), The Celebrity Apprentice has been renewed for a second season, starting in January 2009.
According to Variety, the combination of Ben Silverman's ascension to head of NBC and the lack of scripted material made the renewal of Trump's show happen. Ratings for The Celebrity Apprentice are higher than expected, but no where near the numbers of the program's peak a few years ago. But in a time when ANYTHING new is welcome on TV sets across the nation, the show's return in 2009 was an easy decision.
NBC's reality boss notes something that's a little scary about the show's sudden success. Craig Plestis, who runs reality programming for the Peacock network, says producers are "already getting calls from high-profile celebrities who want to challenge themselves in season two." You can imagine who is calling Mark Burnett to ask to be put into the boardroom with Trump. You kinda hope it's people with great foundations, who really want the money for their charities, but that's probably not it. It's probably D-Listers who want their old attention back, and have found an outlet that doesn't require them to embarrass themselves as much as the VH-1 "Celebreality" series does.
I guess it hurts more knowing that The Celebrity Apprentice is doing so well on Thursdays on NBC, a night better known for great scripted shows like 30 Rock and The Office. We'll have to see how long The Donald stays on the air once the writers get back to work. Until then, Mark Burnett's phone will be ringing off the hook, because the boardroom is still better a stint in Celebrity Rehab.
Your Daily Blend of Entertainment News
Thank you for signing up to CinemaBlend. You will receive a verification email shortly.
There was a problem. Please refresh the page and try again.