There's Still Time To Help Program Logo's Buffy Marathon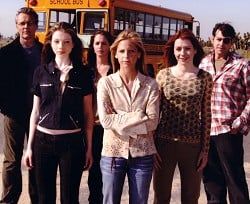 It's not too late to help schedule the forthcoming Buffy the Vampire Slayer 30-episode marathon on Logo. Fans can rank their top ten episodes on the network's website, and then tune in June 11-13 to catch the 30 episodes receiving the most votes.
They even have a handy list set up detailing all 144 episodes of the cult classic television series. So whether you're tastes run toward the silence of "Hush" or the song-and-dance of "Once More, With Feeling" you can help decide which episodes make it on the air. Just don't choose
It's a great way to share the love of Buffy with someone who hasn't seen the show. There's a guarantee of entertainment, even if the more subtle ongoing plotlines may be lost to them. I say stockpile the garlic, sharpen your stakes and butter the popcorn, as it looks like it's going to be one hellmouth of a weekend.
Your Daily Blend of Entertainment News
Your Daily Blend of Entertainment News
Thank you for signing up to CinemaBlend. You will receive a verification email shortly.
There was a problem. Please refresh the page and try again.