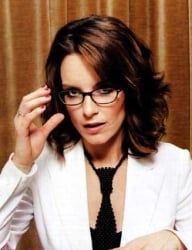 Don't worry 30 Rock fans; Fey's return is only temporary. TV Guide is reporting that the ex-head writer and castmember is slated to host Saturday Night Live's first post-strike show on February 23. With the new gig, Fey is jumping right back into a grinding schedule. Sources close to the show expect her brilliant sitcom 30 Rock to return for an additional 5-10 episodes this season.
For its part, NBC is excited to get Saturday Night Live back on the air. Rick Ludwin, head of NBC's late-night entertainment told the AP that the writers and cast have "been sitting on the sidelines watching all this happening in politics and the primaries. SNL thrives during an election year and they can't wait to get back on." With this being such an exciting election, SNL has plenty of fodder for the rest of the year. Their last episode, which aired at the end of October, featured an amazing sketch about a Clinton Halloween party, in which Barack Obama guest-starred—in a Barack Obama mask.
Fey, who while not on the picket lines has undoubtedly spent the last three months going crazy without a creative outlet, is sure to bring a powerhouse show on the 23rd. In addition to political fare, we can probably expect a sketch or two about the writers strike that kept everyone away for so long. After Fey, Oscar-nominated Juno star Ellen Page will take over hosting duties, at which point Fey can devote all of her energy to bringing us more sweet, sweet episodes of 30 Rock.
Your Daily Blend of Entertainment News
Your Daily Blend of Entertainment News
Thank you for signing up to CinemaBlend. You will receive a verification email shortly.
There was a problem. Please refresh the page and try again.