Tony Shalhoub And Allison Janney To Star In Greg Daniels' NBC Pilot Friday Night Dinner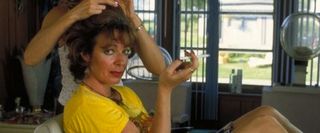 Among the comedy projects in development for NBC is Greg Daniels' U.S. remake of Friday Night Dinner. Two major bits of casting news related to the project were reported today. Their Emmys speak for themselves, but excessive praise for past performances is probably still deserved for both Allison Janney and Tony Shalhoub, both of whom are set to star in Daniels' pilot.
Deadline posted the news, stating that Janney and Shalhoub are set to star in Greg Daniels' Friday Night Dinner. Much like Daniels' (also NBC) comedy The Office, this single-camera comedy is based on a British series. It follows a "quirky family" that gets together each week for dinner on Friday night.
Janney and Shalhoub play the parents of the family. While Shalhoub earned himself eight Emmy nominations (and three wins) for his starring role in USA's Monk, Janney earned six Emmy noms (with four wins) for her role in The West Wing. Many know Janney for that, as well as her later role in the short-lived Mr. Sunshine, however I'll always adore her for her hilarious, often scene-stealing moments in the underrated 1999 comedy Drop Dead Gorgeous. I'm not sure I can picture Janney and Shalhoub as a couple, however both actors are certainly talented enough to pull off whatever Daniels has in mind.
Your Daily Blend of Entertainment News
Thank you for signing up to CinemaBlend. You will receive a verification email shortly.
There was a problem. Please refresh the page and try again.