Tony Shalhoub Joins Rob Greenberg's CBS Comedy Pilot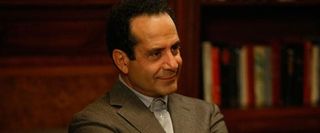 Tony Shalhoub is prepping to play a divorced man. The Monk actor is headed to CBS, where he will play Frank, a ladies man who has gotten married and then divorced four times. In the untitled series (formerly known as Ex-Men), Shalhoub will live in a short-term living center filled with mostly older dudes in similar romantic situations. He will befriend Chris Smith's character, who has been left at the alter.
The popular TV actor was actually expected to appear in NBC's Friday Night Dinner production, but after the program didn't make the network's upcoming primetime schedule, Shalhoub was likely sending feelers out to see what other TV work he could obtain. Shalhoub's hop from the NBC project that didn't make the cut to the untitled comedy pilot is an unintentionally humorous one, however. Earlier in the year, Shalhoub was set to play one half of a married couple in a family comedy and six months later, he will be gearing up to give relationship advice to a young man as a divorcee.
It's nice to see the actor get a last minute pickup, but I bet he's still a little bummed he won't be starring opposite Allison Janney. Luckily, the CBS pilot was put together by How I Met Your Mother producer Rob Greenberg and also stars Smith, which is practically as good. TV Line is reporting the project is supposed to feature several divorced men living in the compound, and I can't wait to see what over-the-top older actors the show finds to round out Shalhoub's neighbors
Your Daily Blend of Entertainment News
Thank you for signing up to CinemaBlend. You will receive a verification email shortly.
There was a problem. Please refresh the page and try again.