Top Chef Power Rankings: Shades Of Home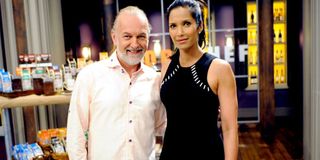 As guest judges go, Hubert Keller is among the most respected and the best liked. His unique perspective and bold flavors always leave the contestants a bit in awe when he randomly makes an appearance, and this episode was no different. The affable Frenchman asked the players to make him a dish featuring coffee for their quickfire challenge, and more than a few were a wee bit intimidated by him, most notably Nicholas and Brian who found themselves singled out for the wrong reasons. On the positive side, Shirley, Carrie and Stephanie all stepped up with inventive uses of flavors. In the end, Shirley was singled out as the winner and given both immunity and ten grand, which she will use to buy an air conditioner.
For this week's elimination challenge, the chefs were asked to think back to the dishes that make them feel like they're home. Not surprisingly, this produced more than its share of touching stories about bonding with parents, missing grandparents and long departed homelands. It also produced some damn good food to. The judges ranted and raved about how delicious everything was and openly admitted they needed to be nitpicky to find both winners and losers.
Despite the collective deliciousness, three chefs were able to set themselves apart: Nicholas, Carlos and Stephanie. The first made gnocchi he routinely cooks for his little girl. The second made tortillas and beans from his mother and grandmother's recipes and the last made mussels in honor of her boyfriend. After much deliberation, guest judge Anthony Mackie (yes, that Anthony Mackie) tipped his hat to Nicholas for a job well done.
On the negative side of the equation, Travis, Brian and Justin were all hit with bad news. The first had some baller gravy, but his biscuits were underdone. The second, through no fault of his own, couldn't get any real flavor in his New York Strips because the kitchen didn't have a grill, and the last should have used a tad more gravy on his chicken and gravy because it took a little too long to serve and some of the gravy dissolved. Because of how close it was, the unfortunate honor could have gone to anyone, but this time, it was Travis' unlucky day.
The Top Chef Power Rankings are an ordered compilation of weekly lists put together by TV Blend writers Jessica Rawden and Mack Rawden. Each week after viewing the episode, they each rank the competitors in order. Nineteen points are given for a first place vote, and this week, twelve were given for a last place vote. Eleven competitors have already been eliminated; therefore, those people automatically occupy the bottom slots. Here is how this week's voting panned out, complete with analysis on how the contestants might fare moving forward.
The Favorites
#1) Nina Compton (38): Nina didn't do a whole lot this week. The judges liked her dishes, but she wasn't singled out for either the quickfire or the elimination challenge. Ordinarily, that would be considered a bad week, but considering how utterly delicious the food was across the board, it's hard to find any fault with her.
#2) Shirley Chung (36): Shirley didn't wind up on the top in the elimination challenge either, but the judges raved about her noodles. More importantly, she won ten thousand dollars in the coffee challenge, which is enough to buy her and her husband a new air conditioning unit for their house. No doubt that cool air will feel like a massive victory next summer.
#3) Carlos Gaytan (34): Another week, another near elimination challenge victory for Carlos. He's been really, really good over the path month or so. If he focuses on making ethnic dishes in his wheelhouse, he will be damn near impossible to eliminate. If he goes too far out on a limb with trying new things, however, it's possible he could lose the battle prior to the finale.
#4) Carrie Mashaney (32): Remember early in the competition when Carrie was churning out victories and high performances, and she seemed like she'd cruise to the finals? Well, she's gone through a bit of a slump, mostly sliding through in the middle. This week, she was at least singled out in the quickfire. Maybe it will prove the momentum she needs to get it together.
#5) Nicholas Elmi (29): Now, this is what I'm talking about. Let's just be honest. Nicholas was godawful for like the first eight episodes, but over the past few weeks, he's gotten his confidence and has now cruised to consecutive victories. Could he possibly win this thing? I'm not ready to say that, but it sounds less outlandish than it did two months ago.
The Contenders
#6) Justin Devillier (28): You know how Nicholas has been getting better and better by the week? Unfortunately for Justin, he seems to be heading in the opposite direction. He keeps making simple mistakes, this week not using enough sauce, and in a competition this fierce, you just can't get away with that. He may have escaped this time around, but if it happens again, he probably won't be so lucky.
#7) Stephanie Cmar (27): Stephanie was excellent this week. Her coffee dish landed her near the top of the quickfire, despite the fact that she had no confidence in it whatsoever, and her elimination challenge dish, mussels, was similarly well-received. Of the three standouts, she seems to have been third, but who cares? Third out of nine amidst some of the best performances of the season is worth a bit of pride.
#8) Brian Huskey (24): Normally the master of the quickfire, Brian was in the bottom of both that and the elimination challenge this week. It's hard to fault him given the staggering level of competition, especially since he didn't get the benefit of a grill, but everyone is too good not to perform at a high level. We're long past the point of excuses.
Swipe to scroll horizontally
Mack:
Nina Compton (19)
Shirley Chung (18)
Carlos Gaytan (17)
Carrie Mashaney (16)
Justin Devillier (15)
Nicholas Elmi (14)
Stephanie Cmar (13)
Brian Huskey (12)
Jessica:
Nina Compton(19)
Shirley Chung(18)
Carlos Gaytan(17)
Carrie Mashaney (16)
Nicholas Elmi (15)
Stephanie Cmar(14)
Justin Devillier (13)
Brian Huskey (12)
Photo Credit @ Bravo
Your Daily Blend of Entertainment News
Enthusiastic about Clue, case-of-the-week mysteries, a great wrestling promo and cookies at Disney World. Less enthusiastic about the pricing structure of cable, loud noises and Tuesdays.