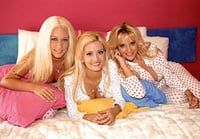 E! Network makes Hugh Hefner even richer this week by purchasing a 3rd season of 'The Girls Next Door'. When the show debuted this season, E! enjoyed their highest ratings since 2003.
Apparently, sex still sells, even if you are 80 years old. The show chronicles the life and times of Hefner's three girlfriends. Yes, three. Hefner appears on the show often, but the focus is the girls. All three live on the Playboy mansion compound.
Watch the show. You'll gain a new appreciation for the magazine industry. Hugh Hefner is a tireless workaholic. He still edits and oversees production of his magazine. The show has shown double the viewers of normal E! programs.
The new season 3 episodes will launch in the spring. Hurray for topless girls dating 80 year old men.
Your Daily Blend of Entertainment News
Thank you for signing up to CinemaBlend. You will receive a verification email shortly.
There was a problem. Please refresh the page and try again.