The Trailer For Aubrey Plaza's Grumpy Cat Is Self-Aware, Sarcastic and Full Of Christmas Spirit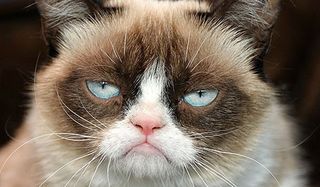 Geesh guys, don't you know that Halloween was soooo yesterday? It's the first day of November today, which means it's time to start thinking about Christmas… at least as far as Lifetime is concerned. To get you in the festive spirit -- whether you want to be or not -- the cable network has just released a first look at their perfectly named made-for-TV movie, Grumpy Cat's Worst Christmas Ever. For those who've ever wondered how the infamous internet animal would sound if she talked like people, apparently it's a lot like Parks and Recreation star Aubrey Plaza, as you'll see in the clip.
Where do we begin? First and foremost, how brilliantly WTF and self-aware is this clip? "Don't get sappy on me. Oh wait, I forgot. It's a Lifetime movie," quips Plaza as the grinchiest feline whose heart just grew three sizes, no doubt in reference to some sickeningly endearing sweet-stuff optimism. Given Lifetime's recent string of campy biopics, few could imagine exactly how this offbeat idea could work. But it looks like a so-bad-it's-good kind of romp, no? We reached out to Grumpy for comment and got this response…
It was back in September we first heard news that Plaza would be voicing the eponymous Grumpy Cat, who's better known as Tardar Sauce among her close friends. Her Lifetime movie was pitched as a typically family-friendly crowd pleaser, whereby the curmudgeonous cat lives in a mall pet shop, but becomes increasingly grumpy as customers persistently pass over her for purchase. Finally one day during the holidays, a 12-year-old girl named Chrystal walks by (Mama's Megan Charpentier) and falls in love with Grumpy. They develop a unique friendship when it's discovered that Chrystal is the only person who can hear the cat talk, but the duo somehow become involved in the dognapping of an expensive pooch and Chrystal inevitably gets herself trapped in the mall after closing hours. Will Grumpy learn the true meaning of Christmas? Or as she sarcastically drawls in the clip, will Lifetime "go ahead and ignore the title of my movie."
It goes without saying that Plaza's impeccable deadpan delivery perfectly suits this mega-popular meme, which will be realized in all its small screen glory this November 29, at 8pm ET/PT on Lifetime. Are you making a quick mental note of that date or is this movie something you'll avoid like a Jingle Cats Christmas album?
Your Daily Blend of Entertainment News
Thank you for signing up to CinemaBlend. You will receive a verification email shortly.
There was a problem. Please refresh the page and try again.