Training Day Writer David Ayer Developing Drama For HBO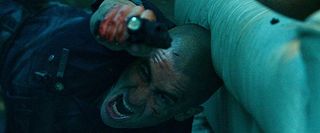 HBO has a new drama in development, and they're working with Training Day writer David Ayer on the project. It seems to be a part of their recent trend towards bringing in feature writers on their projects, and all from producer John Lesher, who is also behind this new project. What that will mean for the network's upcoming programming is yet to be seen, but I get the feeling we can expect cinema-style grand drama.
The project HBO is looking at with Ayer certainly fits that description. According to the Deadline report today, the project is a thriller that takes place in the Los Angeles underworld. It centers on US Special Forces soldiers gone undercover among the criminal element of the city: drug lords, terrorists and some combination of the two. It's described as "blurring the lines between the war on drugs and the war on terror." It reads like it could be a feature film, not surprisingly considering the source.
This is Ayer's first foray in television; he recently picked up the writing gig for the NBC Universal take on Scarface. Which, as everyone associated with the project is quick to point out, is not a remake but a contemporary take on the classic gangster story. Still, it adds fuel to the fire for all those who wonder if Hollywood will ever have an original idea again. Ayer also just came off writing, directing and producing End of Watch, starring Jake Gyllenhaal. From his resume this project with HBO sounds like it's right up Ayer's alley.
Your Daily Blend of Entertainment News
Thank you for signing up to CinemaBlend. You will receive a verification email shortly.
There was a problem. Please refresh the page and try again.