Travel with The Travel Channel's Anthony Bourdain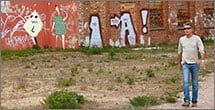 The Travel Channel's Anthony Bourdain: No Reservations is currently seeking submissions for their FAN-atic Special. Submissions should be no longer than 3 minutes in length, and should highlight why Tony should pick your neck of the woods to visit. Oh, and you have to be 18 for all of the normal legal reasons. Visit the Travel Channel's website for more information: click here.
If you've never seen the show, Bourdain visits the best places to eat, the weirdest things to do and hangs out with some pretty strange characters (check out the Cleveland episode for a REAL gem.) The current season airs on Mondays at 10pm and Tony is currently traipsing around New Orleans, London/Edinburgh, the Greek Islands, Jamaica, Laos, Uruguay, Vancouver, Colombia, Hawaii, Cuba, Egypt, Spain, Romania, Papua New Guinea and Tokyo.
As you make your videos, there are few things to keep in mind – Tony never says no to alcohol, he LOVES a full body massage (if you saw the show last year, you know what I mean!), has munched on a "crap filled tube" and loves pork.
Your Daily Blend of Entertainment News
Thank you for signing up to CinemaBlend. You will receive a verification email shortly.
There was a problem. Please refresh the page and try again.