True Blood Casts British Actress Lucy Griffiths As A Regular For Season 5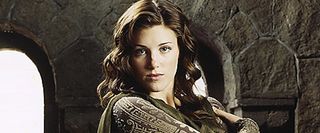 There's some new blood headed for True Blood. British actress Lucy Griffiths is set to join the series, which is headed into its fifth season next year. Those who have read the books on which the HBO vampire-drama series is based might be familiar with her character.
According to Deadline Lucy Griffiths, whose credits include playing Marian in BBC's series Robin Hood, is set to play the role of a centuries-old vampire named Nora, who is also the "sister" to Alexander Skarsgard's character Eric. Not having read the books (and assuming she's a character from the books), I can only guess that "sister" being in quotes means she's not actually Eric's sister, but perhaps she and Eric share a maker (Godric).
Deadline goes on to say that Nora is "working as a double agent within the Vampire Authority." Does that mean she's snooping around the Authority? Or that the Authority has her snooping around elsewhere? Griffiths is set up as a regular for the season, so we can probably expect this story to be developed as the season progresses.
As is often the case, I'm curious to hear the reactions from fans of the books. Is Nora in the books and if so, does Griffiths seem like a good fit for the role?
Your Daily Blend of Entertainment News
Thank you for signing up to CinemaBlend. You will receive a verification email shortly.
There was a problem. Please refresh the page and try again.