True Detective Director Wish List: 5 Filmmakers For Season 2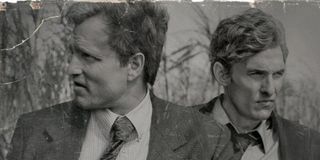 Thanks to Super Bowl XLVIII, there was not a new episode of True Detective last night. Girls and Looking moved to Saturday to avoid the big game but HBO's (not true-)crime story decided it best to skip this week altogether and just air the fourth installment, "Who Goes There," next Sunday instead.
There was, however, still some good True Detective related news this week with the network signing creator Nic Pizzolatto to a two year deal. It probably goes without saying that Pizzolatto inking with HBO means a second series of the anthology is all but guaranteed. So in the critically acclaimed show's absence this week, I thought of five directors who might be up to the challenge of taking over from Cary Joji Fukunaga. That is, if the network reinvests in the one director model after he departs at season's end. I think they should, the result speaks for themselves. Not that I know what any of these artist want to do with their time but some considerations came into play when selecting Fukunaga's replacement. That's why there are no big names like Darren Aronofsky or Christopher Nolan on the list even though they'd kill. And maybe they would do it but I picked these filmmakers because, on top of being perfect for the job, I think HBO could possibly nab them. Here are the five...
Michelle MacLaren
It's only a matter of time before Michelle MacLaren is off directing feature films so HBO should grab her for True Detective while they still can. The longtime television director has quite the resume, including several X-Files and the second ever episode of The Walking Dead, but is probably best known for her work as co-executive producer and eleven-time director on Breaking Bad. MacLaren was an integral part of the AMC drama, coming on board early and making an immediate impression with "4 Days Out" (S2, E9) before eventually being entrusted with Season 5's mid-season finale, "Gliding Over All," as well as the fourth last episode of the series, "To'hajiilee."
It might help her bid if Bryan Cranston and Aaron Paul signed on to be the True Detectives for the second season. The whole idea of the anthology is to allow big actors to partake in the passion project and perhaps the pair would relish the chance to work together again. I know we would. Oh, and it's probably worth noting that MacLaren already has an in at HBO since she recently finished filming her fourth episode of Game of Thrones. It's clear she can handle stepping into another hit show and I'd love to see her take on Pizzolatto's words.
David Gordon Green
The next filmmaker on the list also has an in with HBO since David Gordon Green was a consulting producer and director of twelve episodes of Jody Hill, Ben Best and Danny McBride's Eastbound and Down. Now, if you only know him from his work on the raunchy (albeit rad) series or his big Hollywood comedies like Pineapple Express and Your Highness (or aren't familiar with his name at all and just read these credits) then you're probably wondering why he'd be a great fit for True Detective. Well, all you really need to do is watch the trailer for Joe, his upcoming film starring Nicolas Cage and Tye Sheridan, to understand why I think he'd make a great director for the show's second season. In fact, those aforementioned broad comedies are probably not the best barometer of DGG's work with Joe as well as Prince Avalanche, another recent film of his (featuring Paul Rudd and Emile Hirsch), representing a return to form of sorts.
The director made a name for himself with small, compelling character or regional portraits like George Washington, All The Real Girls, Undertow and Snow Angels. Green's upcoming projects show a renewed interest in a bigger scale, working with Al Pacino on Manglehorn and Chris Pine for In The Line but perhaps he'll want to return to the small-screen after and bring a few of his stars with him? Rudd and Hirsch had wonderful chemistry. Or Cage and Pacino on their game? McBride would be an interesting choice. Maybe with Jonah Hill? As long as we all agree to pretend The Sitter never happened.
Bennett Miller
It might be hard to convince a two-time Academy Award nominee for Best Director to come to television, especially since his third film could be destined for the same fate, but Bennett Miller would undoubtedly produce an incredible season of True Detective. Miller got his Oscar nominations for helming Capote and Moneyball, two true stories that have little in common beyond being based on actual events. Well, as well as the talented filmmaker, the recently deceased Philip Seymour Hoffman and their impeccable quality. Hoffman would also have been a perfect fit for the series because, well, an actor of his caliber is a perfect fit for any project. Sadly, we won't see another collaboration between the two, not that it's important in the grand scheme.
Back to the list. Miller's next film is not only based on real events, again, but Foxcatcher, like Capote, also explores an actual crime with Steve Carell almost unrecognizable in the lead role. The director's affinity for true stories, probably born out of his documentary beginnings (The Cruise), fits the vérité feel of the present storyline of True Detective while his features also contain compositions as beautiful and haunting as any in Fukunaga's first season. Seriously, just watch the opening of Capote, the story behind "In Cold Blood," where Miller's camera explores the crime scene.
Sarah Polley
Similar to Bennett Miller, the next director on the list is not only an Academy Award nominee but has also dabbled in both feature and documentary filmmaking with great success. Sarah Polley worked with Atom Egoyan and David Cronenberg (and, uh, Zack Snyder) as an actress before going behind the camera and earning a Best Adapted Screenplay nomination for Away From Her.
Polley not only proved adept at handling serious drama but also directed the legend Julie Christie to a Best Actress nod. A snowy setting similar to Alice Munro's short story might be a prime location for the second season of True Detective. Don't worry, that's not the only or even a main reason why I think she should take over the HBO series. It's actually Polley's next two films that prompted the choice with Take This Waltz and Stories We Tell ('snubbed' by the Oscars for Best Documentary) working as interesting companion pieces that reminds me of the way the past and present are presented in True Detective. As far as I'm concerned, she could also star in the series or bring some of high profile stars like Michelle Williams to the small screen. Polley and Williams as partners would be pretty rad.
Ben Wheatley
Ben Wheatley, the last entry on the list, might be the least known director of the bunch but Martin Scorsese called his latest film, A Field in England, "audacious and wildly brilliant... a most original and stunning cinematic experience." The director has been gaining notoriety over the last few years thanks to almost universal praise for his bleak yet funny feature films, however, he's also no stranger to the small-screen having worked on a few weird and dark British comedies like The Wrong Door and Ideal (with a feature film adaptation of the latter next on Wheatley's schedule) before his latest hot streak.
Wheatley's Kill List is one of the most intense and scary movies I've seen in years while Sightseers is about as dark as a comedy can get and still be a comedy. Like I said, the director is quickly making a name for himself and it's only a matter of time before he makes his first A-List American project. HBO would be a great place to start if he can fit it into his busy schedule with on his adaptation of J.G. Ballard's High-Rise starring Tom HIddleston on tap. Not to mention a couple episodes of the new Doctor Who he's shooting. As for his potential stars, well, Hiddleston and Hemsworth would be amusing but I'm sure there are also several other actors and actresses in Hollywood itching to work with Wheatley. Especially if it's on something like the second season of True Detective.
True Detective returns with Episode 4, "Who Goes There," on Sunday, February 9 at 9:00 p.m. ET on HBO. Created (as well as written) by Nic Pizzolatto and directed by Cary Joji Fukunaga, the series stars Matthew McConaughey, Woody Harrelson, Michelle Monaghan, Michael Potts, Tory Kittles, Alexandra Daddario, Elizabeth Reaser and Kevin Dunn.
Your Daily Blend of Entertainment News