U.S. Top Gear Renewed For Season 3 On History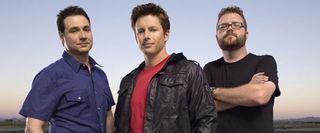 The U.S. version of BBC series Top Gear does not have the same flair and style, or even feature exactly the same humor as its British counterpart. Perhaps I'm just disappointed in the version currently airing on History because the Brit version features the song "Jessica" by the Allman Brothers - a personal favorite of mine - as its theme song. As far as the actual reviews of cars go, America's version of Top Gear situates itself extremely well into History's high-adrenaline "Top Tuesdays" advertising campaign, which features episodes of the shooting competition show Top Shot, as well. Top Gear is also the youngest skewing program on the history channel, which is another good reason to renew the series.
After earning 1.1 million viewers an episode in the 18-49 demographic during Season 2, History has decided to give the series another go. Season 3 of Top Gear is already beginning production, with comedian Adam Ferrara, analyst Rutledge Wood, and driver Tanner Foust returning as presenters on the show. The partnership between BBC Worldwide and History will also continue, with John Hesling as executive producer and Russ McCarroll as the executive producer for History.
If you want a little hint of what Season 3 will be bringing to the table, Ferrara, Wood, and Foust will be traversing across the U.S. to environments that will include Louisiana swamps, the Alaskan Wilderness, and Utah's Monument Valley. Unfortunately, TV Blend has not been privy to what cars the three boys will be checking out next year, although History did hint modern police cars and testing for the best of the best gas mileage will be involved. We'll keep you updated on when Season 3 plans to air, but with Season 2 only wrapping up in April, there will probably be a little lull before next season begins.
Your Daily Blend of Entertainment News