The Ultimate Big Brother Alliance Quiz Will Test Your Superfan Knowledge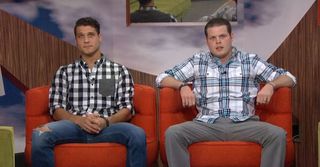 The new season of Big Brother is just around the corner. For those of who who look forward to the new game every year, the countdown to Big Brother Season 18 really has begun. While we await official updates about the houseguests and whatever twists may be in store for them this season, we put together a quiz to test your Big Brother knowledge, centered specifically on some of the more memorable alliances of the long-running CBS competition series.
The quiz is below (it may take a few seconds to load).
How'd you do? Continue on for the answer key...
What was this alliance called?
The Friendship (or The Nerd Herd, if you're Howie)
Season 14's Dan and Ian were part of an alliance called
The Quack Pack
Season 16's The Hitmen consisted of
Cody and Derrick
What was Dr. Will and Mike Boogie's alliance called?
Chilltown
In Season 10, Dan and Memphis formed an alliance called...
The Renegades
Season 5's Drew, Jase, Michael and Scott had an alliance called...
The Four Horsemen
In Big Brother 7 (All Stars), the Legion of Doom alliance consisted of Will and Boogie, along with...
Danielle and James
Which of these was NOT an alliance in Season 17?
The Rationale
In Season 3, who was Danielle Reyes' closest ally?
Jason
The Late Night Crew alliance was in what season?
Season 8
Big Brother returns for Season 18 on June 22 at 8/7c on CBS.
Your Daily Blend of Entertainment News
Thank you for signing up to CinemaBlend. You will receive a verification email shortly.
There was a problem. Please refresh the page and try again.