Under The Dome's Brian K. Vaughan And Neal Baer Discuss Adapting Stephen King's Book For CBS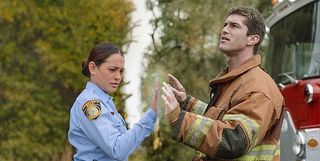 In less than two weeks, CBS will premiere the first episode in the small screen adaptation of Stephen King's novel Under the Dome. Executive producers Brian K. Vaughan (Lost) and Neal Baer (ER) took time away from the Dome to talk to the press today on a conference call and talk about the new summer series, the cast and Stephen King's support of what they're doing with his book.
Under the Dome follows the residents of a small New England town called Chester's Mill, that find themselves encapsulated under a mysterious and inescapable dome that drops down over the town. While many of us who have read the book have a general idea of how the story goes, from what Vaughan and Baer tell us, we shouldn't expect this story to play out exactly as it did in the book. "One thing that Brian has said to me is that it's pretty cool to have the book and then have a show that maybe follows the format - of course, with the dome - and does other things as well," Baer said. "So that you can still be surprised. Because if it was exactly like the book, then you wouldn't be surprised every week. We're chock full of mystery every week, where we unveil new mysteries and solve old ones. So if you knew everything that was coming, that might not be as fulfilling as knowing some of it."
While the book may deviate from the character and plot direction somewhat, Vaughan assures us that the book is faithful to the themes of King's story.
From the sound of it, Stephen King might have actually intended to take the story further than he did in the book. And from what Vaughan says, that's something the TV show might be able to rectify, with King's support:
As we learned previously, Under the Dome isn't a miniseries. If all goes well, the show will continue beyond the first season. "I think that you'll get a very satisfying story with hopefully a satisfying conclusion," Vaughan told us. "But it's definitely our intention that if this does well we'd like to come back to the Dome for many summers to come."
It's a bit too soon to know whether or not that'll happen, but it doesn't hurt to look ahead, nor to look back. Vaughan referred to his experience writing for Lost when discussing the plot and the characters. "Being on Lost, the thing that I learned is that it's not about the smoke monster, or what is the island? Those things are all in service of revealing character," Vaughan said. "And if you don't have characters that the audience love, everything else is kind of meaningless. I hope our show will combine a lot of elements of all the shows we've worked on in the past."
Moving on to the casting, both Vaughan and Baer were really enthusiastic about casting newcomer Alexander Koch as Junior Rennie. Those who have read the book know that Junior has a bit of a dark side, to put it mildly. Vaughan spoke about trying to find an actor who could play a character with numerous dimensions, and landing on Koch.
Baer chimed in to talk about bringing in a fresh face for the show, crediting the great work of seasoned casting directors Sharon Bialy and Sherry Thomas for the incredible cast.
As great as it'll be to see how Koch handles the role of Junior, many of us - particularly Breaking Bad fans - are excited to see Dean Norris take on the part of Junior's father, Big Jim Rennie. Baer said casting Norris was a no brainer…
"I'm a huge Breaking Bad fan," Vaughan added. "And it's been so fun to see Dean do this character, which is so different from Hank, obviously, from Breaking Bad, where he's sort of the ultimate source of law and justice on Breaking Bad and Big Jim Rennie is quite the opposite."
"He's law," Baer interjected, which made Vaughan laugh.
"Yes," Vaughan agreed. "A different kind."
"A different kind of justice," Baer added.
The double-dose of Norris we'll get come August (when Breaking Bad returns) is one more reason to appreciate TV this summer. But it sounds like Rennie isn't the only troublesome character set to appear in Under the Dome, nor is Junior. Yesterday we learned that Natalie Zea had been cast to play the role of Maxine in the series. There's no character by that name in the book, but from what we heard, she has bad intention and will make Jim Rennie look like a cake walk. Vaughan was pretty tight-lipped on the character today, but he did confirm that she's not an iteration of any other character from the book and that she's linked with more than one character.
The Dome drops down on CBS on Monday, June 24.
Kelly joined CinemaBlend as a freelance TV news writer in 2006 and went on to serve as the site's TV Editor before moving over to other roles on the site. At present, she's an Assistant Managing Editor who spends much of her time brainstorming and editing feature content on the site.
Your Daily Blend of Entertainment News
Thank you for signing up to CinemaBlend. You will receive a verification email shortly.
There was a problem. Please refresh the page and try again.