Under The Dome Scores Big Premiere Ratings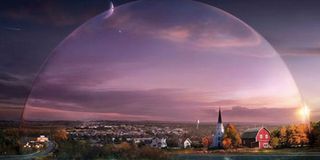 CBS spent a lot of time and money marketing its new summer series Under the Dome before Monday night's release. The network put together numerous videos and previews for online users, being sure to make certain that Stephen King was involved in as many of these as possible. The new show was also advertised on television, more obviously on CBS but also on other networks. CBS was so expansive with its advertising, I saw a commercial for the series an hour before it premiered during an episode of Syfy's Defiance. CBS marketed boldly and broadly, and it worked.
On Tuesday, CBS announced the ratings for Under the Dome's premiere episode, and they are actually extremely impressive. According to network numbers, the first episode averaged 13.14 million total viewers (although TV Line has the number closer to 13.5 million). The network is noting that Under the Dome is the highest-rated summer program for the channel since 1992, which is a huge achievement but not a huge surprise, since summer is traditionally not a huge time for family TV watching. Interestingly, the last program to do so well on CBS during the summer was 2000 Malibu Road, a show which starred Drew Barrymore and Jennifer Beals and was cancelled after one short season, despite high ratings. Hopefully, Under the Dome will be able to maintain similarly high numbers throughout the summer.
Another factor that makes Under the Dome's success even more surprising is that the premiere was competing on the East Coast with NBC's airing of a Stanley Cup Finals match on Monday, which saw the Chicago Blackhawks win over the Boston Bruins and thus allowed the team to earn this year's Stanley Cup honor. Sure, competing against hockey isn't like competing against the Super Bowl, but NBC still had a sizeable 8 million strong viewing audience during Game 6, which makes CBS' 13+ million even more impressive.
CBS is already busy continuing to heavily push its summer program, and the network has already released a sneak peek at Episode 2, which will follow a fire breaking out in the small and increasingly scary town of Chester's Mill. Things are heating up in the dome—quite literally--and if the drama does continue to do well, we may be seeing the series last beyond the realm of the book it is based on.
A lot of people caught last night's premiere of Under the Dome, but if you didn't happen to catch it or remember to record it, you are not out of luck. CBS has made the full episode available to watch online and it can be viewed via CBS' site. I know your tiny tablet is not nearly as exciting as watching something on your television (provided you have a decent-sized TV), but as the ratings have shown, Under the Dome may very well end up being a big success for the network. Check out the episode and decide for yourself whether it is worth giving a shot. Or, if you are already caught up on the series, you can catch next week's sneak peek, below.
Amazing Race & Top Chef superfan with a pinch of Disney fairy dust thrown in. If you've created a rom-com I've probably watched it.
Your Daily Blend of Entertainment News
Thank you for signing up to CinemaBlend. You will receive a verification email shortly.
There was a problem. Please refresh the page and try again.