VH1 Developing Singing Competition Show 60-Minute Superstar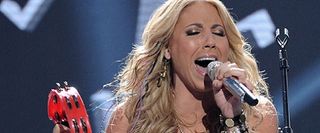 Next to throw their hat in to the singing competition series ring appears to be VH1. It's actually kind of a surprise that it's taken this long for a cable network that was once music-video based to jump into the singing competition fray. They've put into development 60-Minute Superstar, a singing show with a twist.
Unlike Idol, participants in this new show wouldn't be auditioning for their place in the series, but rather they'll be nominated by friends and family, according to the Deadline report. 60-Minute Superstar takes hidden talent brought to their attention by family and friends– people who love to sing and dream of stardom – and gives three of them a chance each week at making their dreams come true. They'll be whisked away from their everyday lives to Hollywood, where they'll undergo a whirlwind transformation that includes a full makeover and receive a boot-camp style training plan to turn them into a superstar in every way. Then the three will perform on stage, showing off their new superstar appeal, and a winner will be chosen. Winners from each episode will then go on to the finals, where they'll compete for the grand prize; no word on what that prize will be.
Brian Graden, who is the former entertainment president for MTV Networks and the man responsible for adding reality series to VH1's programming, is executive producing the project. 60-Minute Superstar sounds like a different take on the singing competition, but it's still yet another one in an already crowded genre. If it goes forward it will have to really set itself apart, and not just in format.
Your Daily Blend of Entertainment News
Thank you for signing up to CinemaBlend. You will receive a verification email shortly.
There was a problem. Please refresh the page and try again.