Val Kilmer's Most 80s Movie Is Getting A Remake In This Form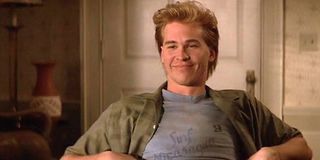 Hollywood will continue to mine the '80s for properties that are adaptable for today's audience. Such is the case for Real Genius, the 1985 film, which stars Val Kilmer as a young and cocky mega-brain at a tech university. Val Kilmer made his mark in the 80s with roles in films like Top Gun and Willow, but there's no character more 80s than Chris Knight, the dude that put the smart in smartass and made being brainy look very cool.
Real Genius wasn't exactly a box office super-success, but it's beloved and remembered fondly, so it's not really all that surprising that NBC might want to develop the concept for a comedy series.
Deadline reports that NBC has given a script commitment (plus penalty) for a Real Genius single-camera comedy, which would be produced by Adam Sandler's Happy Madison, along with 3 Arts Entertainment. Workaholics' Craig DiGregorio and David King are penning the script.
The story for this potential TV reboot of Real Genius is set in the present day and focuses on "the relationship between a rock star-like genius... and a sheltered, naive co-worker."
So, there's no mention of a university involved (or the CIA for that matter), but the rock star-like genius is an obvious nod to Val Kilmer's Chris Knight, and it might be safe to assume the "sheltered, naive co-worker" is comparable to young Mitch, the freshman who's taken under Chris' wing in the film.
For those who haven't seen or don't remember Real Genius, here's the trailer, which weirdly omits Mitch from the story almost completely...
Can Real Genius work as a TV comedy? I don't see why not. Yes, we could make the "get an original story" argument, but let's put that aside, especially considering there appear to be a couple of notable factors here that would set this potential series apart from the film. For one thing, it's being written as a TV comedy, as opposed to the drama, which leads me to think that the relationship between the Chris Knight character and the Mitch of this show would be the primary focus, as opposed to the CIA's efforts to get young, smart people to build weapons for them. That aspect of the film could certainly work its way into the show, but it's hard to imagine a TV comedy using that as its its main focus.
And then there's the setting. If the sheltered, naive guy is the genius' coworker, maybe this comedy won't be set in a university. It's possible they work at a university, but if they're coworkers, they're presumably older than college-age. Regardless, it sounds like a new setting. So this may be a matter of the project borrowing elements from the film and designing a whole new show out of it, much like we've seen from About a Boy, Parenthood and possibly someday, Problem Child. NBC does seem to like turning movies into TV shows.
It isn't hard at all to imagine a TV comedy character saying things like, "Do you mind if I name my first child after you? "Dipshit Knight" has a nice ring to it." Ok, maybe not on network TV, but the obnoxious (or charming) element of Chris Knight's character seems prime for primetime. If David Walton wasn't already starring in an NBC series, I might nominate him for the part. Alas, he is. But it barely needs to be said that the success of this comedy could hinge on who's cast to play the Val Kilmer role. But that's thinking a bit ahead. Let's see if Real Genius makes it to the pilot stage first.
Assistant Managing Editor
Kelly joined CinemaBlend as a freelance TV news writer in 2006 and went on to serve as the site's TV Editor before moving over to other roles on the site. At present, she's an Assistant Managing Editor who spends much of her time brainstorming and editing feature content on the site.
Your Daily Blend of Entertainment News
Thank you for signing up to CinemaBlend. You will receive a verification email shortly.
There was a problem. Please refresh the page and try again.