Video: Banksy Directs Super-Dark Version Of The Simpsons Opening Credits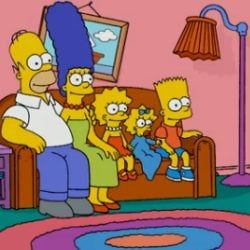 British street artist Banksy has been known for years as a fearless provocateur, staging stunts and works of art that call out the hypocrisy of art, bring up Abu Ghraib in Disneyland, or even question the validity of the art world in general, as with his stellar documentary Exit Through The Gift Shop. But while beloved by art types and hipsters Banksy is still fairly under the radar-- so much so, maybe, that he got away with a pretty stunning bit of provocation on Fox.
Who knows how or why, but the people behind The Simpsons invited Banksy to direct the opening credits, and the results are… well, you should just watch below and see for yourself. It starts off pretty basic, the usual sights of Springfield touches with a little Banksy anarchy, but when the couch gag comes along, he really goes in for the kill. It's kind of remarkable how he manages to incorporate classic dark Simpsons humor while taking things to a whole new level of meta and frank acknowledgement of the ugly side of being an internationally recognized hit show. Let's just say you'll never look at your stuffed Bart Simpson doll the same again.
Take a look at the clip below (via Boing Boing) and let us know in the comments if you think it's brilliant, or if maybe it goes too far.
Your Daily Blend of Entertainment News
Staff Writer at CinemaBlend