Video Clips From 24 Season 7 Premiere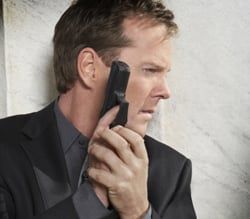 We know everyone's got their limits when it comes to spoilers. Ok, some of us do anyway. That's why we tucked these video clips from the season premiere of 24 into their own special article, so that those of you who would prefer to wait until the premiere to see what kind of ass-kickery Jack Bauer has in store for us this year won't find yourself inadvertently looking at actual clips from the episode.
If you'd prefer to stick with cast video interviews, a new trailer and maybe a behind the scenes look at the making of the show, click here.
For those of you who simply can't wait until January 11th to see some of what's to come in season 7 of 24, check out the videos below!
Part 1 of the 24 season 7 premiere airs Jan. 11, 2009 (8:00-10:00 PM ET/PT) on Fox.
For cast videos, a behind the scenes look at 24, episode clips and a new trailer for season 7, click here!
Image 1 of 14