Videos From Grey's Anatomy Private Practice Crossover Ep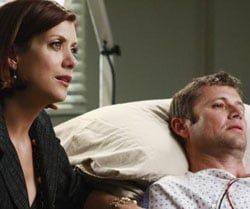 You know, I thought the whole penis-fish story arc in Grey's Anatomy a couple seasons ago was kind of nasty but brain worms? Ew. This week's episode of Grey's Anatomy will feature some of the cast of ABC's GA spinoff series Private Practice, who are in need of Derek's expertise. We have some clips from the episode to share with you. (Spoilers ahead!)
If you're like me then you haven't watched passed the pilot episode of Private Practice and have no idea what's going on on that show. Fortunately, our Grey's recapper Dustin was kind enough to cover last week's episode of Private Practice as well so those of us who aren't down with PP can know a little bit about what's going on in Addison's world. You can read Dustin's recap of the episode here, which explains why Addison is coming back to Seattle Grace.
In a nutshell, her brother (played by Grant Show) has what he thinks is a brain tumor and turns out to actually be worms and eggs in his brain. I'll give you a moment to swallow the vomit in your mouth. Good? Ok, from the clip below, Derek doesn't look too optimistic about Archer's chances. And in non-PP news, Miranda's taking the whole pediatric surgery idea seriously enough that she's applying for a fellowship. But is she really cut out to be a Ped?
Grey's Anatomy airs on Thursday nights at 9:00 PM ET on ABC.
Your Daily Blend of Entertainment News
Thank you for signing up to CinemaBlend. You will receive a verification email shortly.
There was a problem. Please refresh the page and try again.