WGA Leaves The Golden Globes Speechless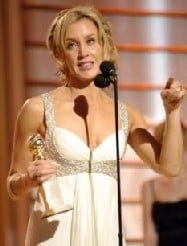 It looks like awkward teleprompter jokes are being replaced by even more awkward ad-libbing this awards season; the WGA has announced that it will not be allowing its writers to prepare material for January's Golden Globes ceremony. The guild has also denied the Academy of Motion Picture Arts and Sciences' request to use clips from movies and past award shows during its telecast. While the WGA hasn't yet made a public decision regarding the script for the actual Oscar ceremony, it doesn't look as though that awards show will have writers either.
In a letter to AMPAS and the HFPA (Hollywood Foreign Press Association), the WGA explained its decision: "Writers are engaged in a crucial struggle to achieve a collective bargaining agreement that will protect their compensation and intellectual property rights now and in the future. We must do everything we can to bring our negotiations to a swift and fair conclusion for the benefit of writers and all those who are being harmed by the companies' failure to engage in serious negotiations." In other words, pencils down means pencils down.
In addition to the Globes not having any scripted material, the ceremony could be negatively impacted in a much bigger way: by nobody showing up. Many SAG and AFTRA members who have publicly lent their support to the WGA's cause will be loathe to cross the picket lines in order to pick up their awards.
In an interesting twist, the WGA is arranging a way for those award winners who don't want to attend the actual ceremony to still give their acceptance speeches. Guild members are going to coordinate "black tie picket lines," where nominees can accept their awards (though probably not the actual statue) and have their thank-you's broadcasted live on the internet. Grey's Anatomy nominee Katherine Heigl has already said she's not attending the ceremony, and with many likely following her lead, there may be more stars outside the auditorium than in.
Your Daily Blend of Entertainment News
Your Daily Blend of Entertainment News
Thank you for signing up to CinemaBlend. You will receive a verification email shortly.
There was a problem. Please refresh the page and try again.