Watch Batman Interrupt A News Station's Weather Forecast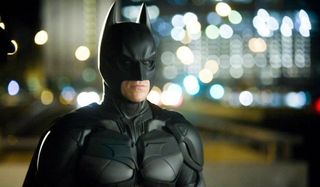 Batman is at it again. Lurking around local news stations and popping in just to leave people in awe. This time around The Dark Knight swooped in to interrupt a weather forecast at a local news station. The meteorologist certainly wasn't expecting the caped crusader, and was left speechless upon his arrival. Check it out.
Marcus Bailey was just minding his own business, doing his duty as a WISH-TV Channel 8 meteorologist when Batman decides to lend a helping hand. The story was about a massive flood in the Indianapolis area which left a couple cars submerged. Well, when The Dark Knight heard there was trouble, into the screen he comes. Bailey was so shocked that Batman heard his call (what without the bat signal and all) that he was left tongue tied. All he could say is basically, 'wow you're really tall' (or something to that effect).
Batman didn't stay for long though. Looks like he saw that he was needed elsewhere and most likely went to those submerged cars on the freeway. Or maybe he just got a little weirded out by how much Marcus Bailey was staring. Either way, his visit was short, but always welcome.
This isn't the first time we've seen the caped crusader show interest in local weather forecasting. Maybe it's something about a storm coming that gets The Dark Knight all excitable. But a few years ago on Fox News he was given the opportunity to do some weather forecasting himself, and well, he wasn't half bad (actually, he was pretty bad).
Luckily for us, Batman is able to keep his dignity on the big screen, and show us that he can do a lot more than just read off some numbers on a teleprompter. The next iteration of Batman we'll see on the big screen will come in the form of Ben Affleck as Bruce Wayne. Affleck has been tirelessly working at perfecting the character and has become so dedicated that there is even rumors he may direct himself in a solo Dark Knight film following his Batman debut. And following Batman v Superman: Dawn of Justice Affleck will again reprise the role in Suicide Squad too. A solo film is a long ways down the line, but a new chapter in the Batman film franchise has arrived, and we couldn't be more thrilled. There's probably not going to be any local news reporting from Batman in the coming movie, but you can see him battle it out with Superman, which maybe makes up for the loss. Batman v Superman hits theaters March 25, 2016.
Your Daily Blend of Entertainment News
Your Daily Blend of Entertainment News
Thank you for signing up to CinemaBlend. You will receive a verification email shortly.
There was a problem. Please refresh the page and try again.