Watch Charlize Theron Explain Why She Invited President Obama To A Strip Club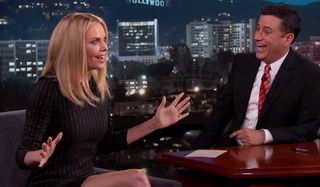 Charlize Theron may have just played a hard-nosed warrior in Mad Max: Fury Road, but in real life, the actress can be a whole lot more awkward. Recently, Theron appeared on Jimmy Kimmel Live! and revealed a conversation about a strip club that she had with President Obama the last time she was on the late night show.
In the clip, Theron explains that she was super nervous to be on the show on the same night Barack Obama was set to appear. Before the episode taped, she was actually able to meet the President, and she says he was super excited to be able to reach a different sort of demographic by appearing on Kimmel's program. Theron was very nervous, and said the first thing that came to mind, which happened to relate to a strip club.
It's probably not every day that Obama gets asked to go campaign at a strip club, much less by an a-list actress. Theron also says she barely slept for weeks after the ridiculous exchange with the President, because when she would get ready for some shuteye, she'd constantly think about the exchange over and over again.
Charlize Theron isn't the only human who has suffered an embarrassing moment in public. We've all had moments like these, although most of us probably haven't suffered through arduous conversations with the leader of the free world. Plenty of celebrities have embarrassing stories like this, though, and often these moments happen in public rather than behind closed doors. Just a couple of weeks ago, singer Demi Lovato literally face-planted at a KIIS-FM pool party—and the whole thing was caught on tape. Shaq's also been known to fall down and crash into objects while on camera, proving there are plenty of ways to do something awkward in front of a lot of people.
Luckily, for Theron, the moment with the President didn't happen live on the air, so the actress was able to bring up the amusing story when she was ready to and could laugh about it. As for Obama? He also isn't afraid to laugh at himself, either, actually reading mean tweets the last time he visited Kimmel. You can check out that footage, below.
Amazing Race & Top Chef superfan with a pinch of Disney fairy dust thrown in. If you've created a rom-com I've probably watched it.
Your Daily Blend of Entertainment News
Thank you for signing up to CinemaBlend. You will receive a verification email shortly.
There was a problem. Please refresh the page and try again.