Watch Happy Endings' Full Halloween Episode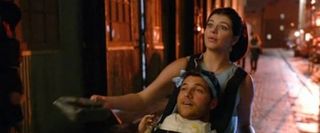 Happy Endings on ABC is one of the most consistently funny, well written and acted sitcoms on television so, of course, not enough people are watching. Thankfully, the series stuck it out and was granted the second season order it so rightfully deserved. It plays a lot like Friends, but looser and updated for current television audiences by employing every trick in the evolving sitcom tool box. Plus it has one of the best characters at the moment in Adam Pally's Max, the straightest gay dude on television.
The series making it to Season 2 is merely the first step because if more people don't start watching, it might not make 3 (or even 2.5), which would be a true shame. The late renewal was what caused Damon Wayans Jr. to drop out of the Zooey Deschanel starring New Girl (yes you racists, that is a new African American character on the show, his name is Lamorne Morris), and return to this far superior series. To be fair, New Girl hasn't had the same amount of time to work out its kinks but Happy Endings, well, started almost kinkless.
It's rare for a sitcom to be that funny that early. It takes time for the writers and actors to find and settle into the characters, stories and tone that will often cause a show to suffer early cancellation. Well, after squeaking its way into season two, ABC finally started putting some marketing dollars behind it in hopes of expanding the audience and it's about time since I barely heard of it during its first season. This push might be why ABC may be trying this little marketing maneuver, that is, getting the always popular Halloween episode out early. Maybe more people will catch the episode online? I hope so... Enjoy!
Full episode available at Yahoo (opens in new tab) or watch the embed below.
Happy Endings airs Wednesdays at 9:30 p.m. on ABC. It stars Zachary Knighton, Elisha Cuthbert, Damon Wayans Jr., Eliza Coupe, Casey Wilson and Adam Pally.
Your Daily Blend of Entertainment News
Thank you for signing up to CinemaBlend. You will receive a verification email shortly.
There was a problem. Please refresh the page and try again.