Watch Jimmy Fallon Stare Down Jared Leto, Cut His Unruly Beard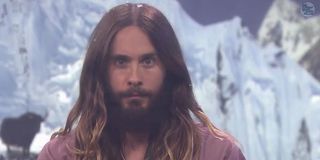 If there are any lingering questions concerning whether or not Jimmy Fallon is a good fit for The Tonight Show in this Internet Age, his recent wave of popular viral videos should put those questions to rest. On Wednesday, the late night program host sat down with Jared Leto, not to discuss his work with 30 Seconds to Mars, but to discuss the mysteries of the universe with the long-haired actor and musician.
Before Jared Leto popped up on the show as an official guest, Leto and Fallon put together a sketch where they "non-verbally" talked about very important concepts, including how Leto "smells of ocean birds" and how Fallon attempts to howl at the moon. Fallon's got on some glorious fake long hair, and it becomes clear during the video that Leto is a chest shaver. The whole thing is pretty weird but fits Leto's oddball personality, and altogether the segment, called "Intense Staredown," is an entertaining waste of a few minutes if you get a chance to watch.
Speaking of Jared Leto's propensity to shave, Leto had another big moment during the episode where he allowed Fallon to shave his face. Now that I've seen his bare chest, I'm thinking a chest shave would have been a whole lot funnier, although I will say that Leto's beard and 'stache were getting a little out of control and were definitely long overdue for a trim. Fallon was right to give it a shave, and the results weren't half bad, either. But my favorite part is that the whole thing doesn't seem to have been rehearsed. The two guys are joking about the length of the beard, when Fallon slyly pulls out a pair of clippers. The shocked look on Leto's face is priceless and I like that he is game for what comes next.
Fallon's been making a career of these viral videos for a while, well before he ever moved out of the late late slot and into the prime 11:35 p.m. showtime. In fact, the "Intense Staredown" segment reminds me a lot of the sketch he spontaneously put together with Brad Pitt last summer, when he was still the host of Late Night with Jimmy Fallon. That sketch involved the actor and late night host yodeling nonsense to one another from the rooftops of buildings in New York City.
When Fallon was announced as Leno's successor, I wasn't really sure what the end product would look like. I also wasn't sure if Jimmy Fallon could really compete in the ratings opposite veteran funnyman David Letterman and that other Jimmy guy. He's actually crushed in the ratings consistently, and has viral talent, too boot. NBC isn't always the most prescient network when it comes to viewers' wants, but it looks like the company hit the nail on the head this time.
Your Daily Blend of Entertainment News
Reality TV fan with a pinch of Disney fairy dust thrown in. Theme park junkie. If you've created a rom-com I've probably watched it.