Watch Nick Offerman Explain What He Ate To Intentionally Get Fat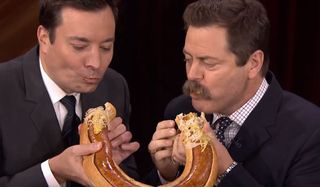 Nick Offerman is a man who is known for liking meat. Part of his association with meats of all sorts has to do with the fact that his Parks & Recreation character, Ron Swanson, really dug meat. Apparently, however, the meats have come in handy recently. The actor is set to appear in a stage version of Confederacy of Dunces, playing the overly large Ignatious J. Reilly, and he needed to put on some weight for the gig. You can watch him explain what he ate to intentionally get fat, below.
This video is from last night's The Tonight Show Starring Jimmy Fallon episode, and it is legitimately hilarious. Nick Offerman's always one to watch on the small screen, but hearing him joke about tailgating meats, holiday meats and more just kicks the late night sketch up a lot. It's all in the name of the play, and Offerman reveals he has a 3-part plan for meat-eating laid out.
If you aren't familiar with the character of Ignatious J. Reilly, in many ways he's similar to Nick Offerman in size and build. He's a man with deep thoughts and opinions, but unlike Offerman, who is rocking a nice suit in this video, he's a total slob. So, if you do get the chance to catch a portly Offerman in the role, it should be a gig for the ages.
There's one dish he discusses making that's especially hilarious. He states they fed a pig a turducken and then cooked the turducken-fed pig, calling it "The Flying Pig." It's funnier when he's explaining it, so if you haven't watched, yet, what's stopping you?
Fallon may not be joking about wild meat dishes, but he also contributed handily to this bit, forcing the creative team at The Tonight Show to bake bread around a giant kielbasa. They throw mustard and sauerkraut on the giant hunk of meat, and he and Offerman share the sausage onscreen, in the name of the play.
If Offerman's consuming kielbasa on a regular basis, he should have no trouble keeping on weight for the A Confederacy of Dunces gig with the Huntington Theater Company in Boston. But if you care more about the man and the meat than Offerman's theater gig, you can catch him carving ridiculous things from wood, explaining how he finagled his way onto Parks and Rec and generally doing other manly things.
In addition, you can catch new episodes of The Tonight Show starring Jimmy Fallon on weeknights at 11:35 p.m. ET, only on NBC.
Reality TV fan with a pinch of Disney fairy dust thrown in. Theme park junkie. If you've created a rom-com I've probably watched it.
Your Daily Blend of Entertainment News
Thank you for signing up to CinemaBlend. You will receive a verification email shortly.
There was a problem. Please refresh the page and try again.