Watch Saturday Night Live Go After Scientology With This Music Video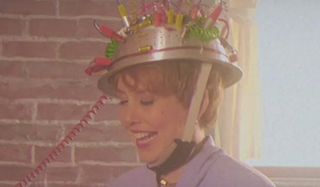 The inner-workings of the Church of Scientology recently became a timely discussion with HBO's documentary film, Going Clear: Scientology and the Prison of Belief. Thus, it's no surprise that Saturday Night Live would take the opportunity to skewer its subject in a way that's both direct, yet technically, indirect. Check it out in all its glazed-eyed glory before you sit down to John Hancock that billion year contract.
Medically speaking, the term, "Neurotology" refers to an area of medicine relating to neurological disorders of the inner-ear that includes the loss of hearing. Yet, for Saturday Night Live, it was an appropriately assigned name for the subject of this thinly-veiled satirical assault on the notoriously litigious collective who once tried to proliferate their beliefs with the box-office bomb, Battlefield Earth. A pseudo-historical VHS artifact from 1990, the music video, despite its status as fiction, highlights some very real parallels pointed out regarding the Church of Scientology.
Clearly, the depicted "Church of Neurotology" are suffering from a deafness of judgement as they look to the stars from which they believe they came, collectively singing in ecstatic praise like some demented "We Are the World" performers (clad in Cosby sweaters, probably reeking of Aqua Net). Yet, despite an unquestioned fidelity to the metaphysically monopolistic cosmic cause, the video injects some inconvenient updates on the futures of the participants. With fates like "missing," "in prison," "lost mind," and "sued to death" mentioned in the video, it's probably a safe bet that things didn't quite pan out for the majority of the Neurotology group.
Unfortunately, the depicted fiction, funny as it may be, is analogous to the reality for many members of the organization, who have either gone missing or left to become outspoken critics of the Church of Scientology. In fact, the video is a direct parody of a 1990 music video released by the Church of Scientology called "We Stand Tall," which, upon viewing, almost renders the SNL parody video less funny in direct comparison to the genuine article. In fact, the YouTube upload above of the video even features annotations similar to the parody providing factual context to the footage, spotlighting some unsavory updates on specific highlighted members.
SNL cast members, Kate McKinnon, Aidy Bryant, Colin Jost and Kenan Thompson are all hilariously hyper and Bobby Moynihan is a brilliant train-wreck in the "historical" footage of the movement's savior. It stands as one of the best film pieces the show has done in quite a while that manages to both have its satirical cake and eat it by walking the edge of defaming the Church of Scientology in the legal sense, while never actually doing so, directly. In fact, one of the depicted participants is said to have "switched to Scientology," cleverly differentiating it from "Neurotology." We see what you did there, SNL.