Watch Shonda Rhimes Admit She'll Kill Off A Character If She Hates The Actor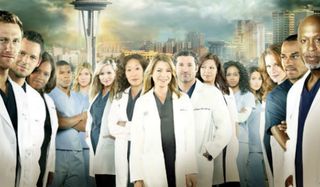 Shonda Rhimes has become one of the most singularly powerful women on network television over the last few years. Between Grey's Anatomy, Scandal, and How To Get Away With Murder, she has created some of ABC's most popular programming. With such authority comes the ability to kill off anyone she damn well chooses; watch her admit to that very practice below:
Appearing on The Nightly Show with Larry Wilmore, the titular host questions Rhimes on a game called "Keep it 100," in which she must answer his every query truthfully. Wilmore then levels the question, "Have you ever killed off a character because you didn't like the actor?" at which point the audience gets excited with anticipation. He then follows up, saying she can get bonus points for being specific and naming the actor. Bashfully, she answers yes, but doesn't elaborate on the identity of the actor or actress.
While Rhimes was not willing to offer specifics on the matter, we can make some fairly educated guesses based on things we already know. Last Spring, Grey's Anatomy killed off Dr. Derek Shepherd – AKA McDreamy – in a surprising event that effectively crushed the hearts of fans across the world. Behind the scenes rumors had swirled that McDreamy actor Patrick Dempsey and Rhimes had what could only be described as a tumultuous relationship on the set of Grey's, with Rhimes referring to Dempsey as a "diva" on set. While a rumor, Shonda Rhimes is known for not always have great relationships on set.
The showrunner and producer similarly had a not-so-great time with former Grey's Anatomy lead actress Katherine Heigl, leading many to assume that the actress' untimely exit on the show was linked to behind-the-scenes hostilities with Rhimes; thankfully Izzie managed to avoid getting killed off despite being given a dire brain tumor.
The removal of characters from major TV shows due to drama is not necessarily an uncommon practice – Rhimes just happened to admit it. Over at CBS, actress Archie Panjabi's fan favorite character Kalinda Sharma was allegedly written off of The Good Wife because Panjabi and lead actress Julianna Margulies' off-camera relationship had deteriorated. While Panjabi was not killed off, the same principle applies: the creative forces behind a series make what they believe to be the overall best choice for the show.
While we can try to guess and hypothesize the person or persons Rhimes is referring to when she admits to killing off characters, we cannot know for sure. With such a prolific resume of shows currently airing, and such a wide pool of talent (and TV deaths), it seems safe to say that these deaths might not be the last that she decides to orchestrate.
Originally from Connecticut, Conner grew up in San Diego and graduated from Chapman University in 2014. He now lives in Los Angeles working in and around the entertainment industry and can mostly be found binging horror movies and chugging coffee.
Your Daily Blend of Entertainment News
Thank you for signing up to CinemaBlend. You will receive a verification email shortly.
There was a problem. Please refresh the page and try again.