Watch Stephen Merchant Wear Chaps, Lip Sync Christina Aguilera's Dirrty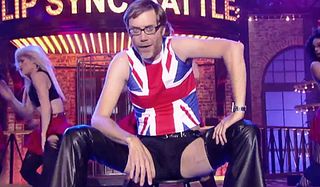 Stephen Merchant has a dirrty side. The actor/comedian/writer recently pulled out his chaps to sing the Christina Aguilera hit "Dirrty" on Spike TV's Lip Sync Battle, and it was hilarious. Take a look.
In the video from Thursday's episode of Lip Sync Battle, comedian Stephen Merchant pulled out all the stops during his lip sync performance on the pretend singing show. Merchant, who serves as executive producer on the hit show, wowed the crowd with his hilarious version of the pop song, and even donned a pair of chaps to help sell the performance. As Merchant put it:
That he did.
Merchant's lip sync performance isn't until about halfway through the video, but it is definitely worth the wait. The I'll Give a Year actor first appeared in a cage, much like the one Christina Aguilera used in her video back in 2002. It all goes downhill—or uphill depending on how you look at it—after that. The comedian spares no expense in flaunting his assets or his appropriately labeled "nasty" underoos. His dancing may have been a little offbeat, but Merchant more than made up for it with his version of "dirrty" dancing, which of course incited the crowd more. I couldn't tell who was having more fun, the host LL Cool J and supermodel co-host Chrissy Teigan, Merchant's competition Malin Akerman or the crowd. The Hello Ladies actor clearly brought the house down with his performance. Christina Aguilera should take a note.
Then again, Malin Akerman did give the comedian a run for his money. Her performance was first and she undoubtedly set the bar pretty high with her lip sync performance of Jason Derulo's "Talk Dirty." For her lip sync performance, the Sin City Saints actress donned what looked like something from LL Cool J's 1990s closet, but as you can imagine, she made it super cool again. The actress brought her A-game, doing her best interpretation of Jason Derulo—fully assuming her character by engaging with and even slapping dancers on the derriere. Both LL Cool J and Chrissy Teigen were uber impressed with Akerman's wardrobe and style, with co-host Teigen calling Akerman "the most adorable gangster I've ever seen." Even Merchant had to give her credit for her outstanding performance, but he still won, obviously.
Your Daily Blend of Entertainment News
Thank you for signing up to CinemaBlend. You will receive a verification email shortly.
There was a problem. Please refresh the page and try again.