LL Cool J Is Joining The Marvel Cinematic Universe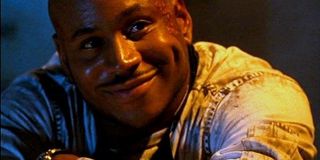 LL Cool J is set to join Marvel's expanding cinematic universe. At least, that's according to LL Cool J. The legendary rapper and accomplished actor took to Twitter to make the announcement - and as you can imagine, it caused quite the stir.
LL Cool J made the announcement late last night and he was immediately inundated with Tweets asking him which superhero character he would be portraying. You can check out his original message below.
The rapper was then peppered with questions asking whether he would be featuring in the now confirmed Black Panther origin story, or perhaps as Luke Cage. At this point he hasn't yet responded to these questions. Instead, the only follow-up has been a re-Tweet of a news story about his original Tweet. If you're like me, you're having flashbacks of Vin Diesel's similar and successful attempt to land himself a role in the Marvel world
Diesel originally told the world that he was working out some sort of deal with Marvel months before he had actually been confirmed to play Groot in Guardians of the Galaxy. Diesel was only holding tentative meetings with Marvel regarding possibly working with them the first time he teased he would star in James Gunn's now beloved sci-fi space opera. Rather than being perturbed by the fact that the actor had been revealing various details regarding his interactions with them, Marvel wound up giving him a job. It could very well have something to do with the fact that Vin Diesel has a huge presence on social media. In fact he has over 80 million followers on Facebook alone. This meant that the Fast & Furious actor was able to inform his army of fans about his possible involvement in Guardians Of The Galaxy, which helped to bring the cult comic to the attention of more and more people who otherwise would never have heard of it.
Back while promoting Guardians Of The Galaxy, Marvel's head-honcho Kevin Feige basically confirmed that Vin Diesel's constant updates regarding his potential involvement with Marvel helped to seal his casting. He told Wired in August, "There was this odd fever in the online community about what Vin was going to do with Marvel." Is LL Cool J trying to go down the same path that Vin Diesel utilized to such a superb extent? Maybe. It probably doesn't hurt to simply send out a Tweet that could ultimately lead to a role in one of Marvel's upcoming projects. This is especially true for L.L. Cool J, who has seen his movie career peter out to an extreme degree over the last few years. More power to him.
Your Daily Blend of Entertainment News