Where You Can Catch The Greatest Super Bowl Commercials Of All Time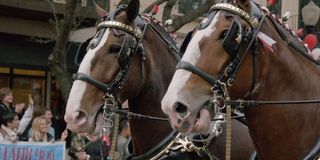 Let's face it, it has been a tumultuous year for the NFL. Scandals have been everywhere in the league this year and with fines handed down the size of the gross national products of small countries, it's time to shift the focus to what really matters: Super Bowl Commercials! Just a few days before kickoff, CBS is ready to present the 15th annual special highlighting the best Super Bowl commercials of all time. But this year, there is a twist in the Boomer Esiason and Katherine McPhee-hosted event.
This year, the special will be putting up "old school" commercials versus "new school" in a shootout to see which advertising--and which era--takes the prize. CBS, of course, has added a social media interactive wrinkle to the usual special this year. You can vote during the broadcast in real time, leading up to the end of the broadcast when the winner of the event will be announced. Esiason, former quarterback for the Bengals and Jets and current CBS NFL analyst will be rocking the old school commercials while Scorpion star McPhee will be repping the new school. This means old favorites like the classic 1980 "Mean" Joe Greene Coca-Cola spot will pop up...
...and will be tasked with taking on the likes of 2011's Volkswagen "The Force" (featuring a pint sized Darth Vader).
While most watchers of the big game are more concerned with the numbers they have in their boxes in their friendly office pool, a close second is always the big time commercials. Companies shell out millions for less than a minute of air time, hoping that a short spot will hit the mark and resonate with the massive crowd tuning into the game.
The event is the king of all advertising and can make or break a company's new product, movie, production or service. With all of the distractions from the NFL this year, fans can certainly use a break of some mindless entertainment in the form of commercials. The Super Bowl Commercials special will be airing on January 28th at 8 PM and you can even start voting now for your favorites from the past on the website. From 1992's Cindy Crawford drinking a Pepsi at a gas station (old school) to 2012's Doritos "sling baby" (new school), the choice is all up to you who takes the crown!
Your Daily Blend of Entertainment News
Thank you for signing up to CinemaBlend. You will receive a verification email shortly.
There was a problem. Please refresh the page and try again.