This Is Who Sleepy Hollow Has Picked To Play Thomas Jefferson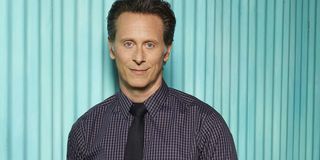 This is mostly a casting story, but we do get into some spoilers regarding this week's Sleepy Hollow fall finale. So if you haven't caught the episode, now's a good time to turn back.
There are a lot of berserk but awesome things about Sleepy Hollow, Fox's supernatural drama that also ties in with American history. One of those awesome ideas is the show's use of historical figures from the late 1700s to tie into plotlines involving Ichabod and Abbie. This week, Sleepy Hollow announced that Wings actor Steven Weber has signed on to play Thomas Jefferson during Season 2.
Details on the gig are scarce at this point. We do know that Jefferson's name has been mentioned on the show before, most recently as the man behind the cell that's holding Headless Horseman Abraham. According to TV Line, the show was looking for someone "commanding" and they found that presence in Weber, a veteran actor who has worked a lot of gigs in his lifetime, recently popping up in Dallas, Chasing Life, Ultimate Spider-Man and NCIS: New Orleans.
We've already seen Sleepy Hollow give us its version of George Washington and Ben Franklin, so it's not a real surprise that Sleepy Hollow would find a way to fit in the dude that famously penned the Declaration of Independence. Weber's not the only person who has recently signed on to the series to play a famous historical figure. In fact, in October the drama also signed on Gossip Girl actress Michele Trachtenberg to play a decidedly less gossipy role. She'll pop up playing Abigail Adams in the hit series in 2015 and will enter the plot in a story that involves Katrina Crane.
Sleepy Hollow is currently on hiatus until midseason, but the show has definitely given us a lot to think about during the fall finale. This week's episode followed Ichabod, Abbie and the rest of the gang as they attempted to stop Moloch from achieving his evil ends. This time around, they convinced the former Captain Irving to help them with their plight and he totally went into ninja attack mode, taking on the Horseman of War. He eventually took down the baddie, but incurred a fatal wound in the process. As if that weren't shocking enough, Henry Parrish also took out Moloch by the episode's end. When the show comes back after the break, there's definitely going to have to be some restructuring with the plot and the bad guys that Ichabod and Abbie are chasing.
At some point, Thomas Jefferson will be a part of the new plots, but whether that's via flashbacks or some sort of crazy supernatural plotline is still to be seen. We'll let you know when Fox gives us an official return day for Sleepy Hollow.
Amazing Race & Top Chef superfan with a pinch of Disney fairy dust thrown in. If you've created a rom-com I've probably watched it.