Why The Americans Killed Off Its Best Character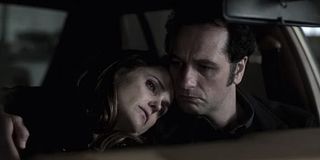 Spoilers if you haven't caught last night's episode of The Americans, "Chloramphenicol," yet.
Spying is a tough business. Although the main characters on The Americans have managed to get through missions without dying, lies, betrayals and plenty of dangers often occur. The Americans has always been rife with these sorts of dangers, but this week, the show took things a step further when they killed off fan-favorite character Nina in a shocking moment. While the moment was unexpected—mostly because Nina had frequently been clever enough to play her hand as well as she could—producer Joel Fields spoke out after the episode to explain Nina's death was in the cards for a long time. In fact, actress Annet Mahendru was living on borrowed time for a while on The Americans.
Apparently, the creative team had been thinking of killing Nina off since partway through Season 3. At first, she was expected to go near the end of Season 3, but Joel Fields told TV Line they eventually worked it out to keep her around for part of Season 4.
If you've been keeping tabs on The Americans, you'll know that Nina's character had not been a part of the main action for some time. The series shipped her off to Russia at the end of Season 2 for treason after it was discovered she was a mole. During Season 3, we saw Nina dealing with the horrors of prison. She made attempts to improve her situation while jailed, but things kept getting worse and worse for her character. Probably, we shouldn't have been shocked by this week's ultimate outcome. But she had been holding on and surviving in prison for so long the moment still had impact.
The Americans has always been a series about relationships. Philip and Elizabeth's marriage and family life has always been at the heart of this. However, the complex way that Nina tangled her life up with the married Stan's early on in the series made her one of the show's most intriguing characters and also one of its best. In prison, things didn't get any easier for Nina. Stan nearly lost his job making a deal to try and secure her release. Her lifelines kept drifting and drifting farther and farther away. While she still had Oleg on her side, he was too late to save her. She died a terrible death, getting shot in the back of the head for trying to get a letter to Anton's kid.
FX's series has always been one that has managed to keep up the suspense without having to include rampant death. For that reason, I guess I always saw a light at the end of the tunnel for Nina. She never really stopped scrapping to improve her situation and very nearly succeeded on a few occasions, even as her situation worsened. As Fields even noted, Mahendru's performance was so exciting the show even let her live longer than the writers expected her to. They liked her character as much as we did. Still, she was always expected to go on the series and whenever it happened, it wasn't going to be a pretty moment. If this is the type of stuff we are getting in the fourth episode of the season, I can't wait to see what The Americans has in store for us in the weeks to come.
Catch new episodes of The Americans on Wednesdays at 10 p.m. ET, only on FX. In addition, you can find out what else the networks have coming up this summer with our premiere schedule.
Your Daily Blend of Entertainment News
Reality TV fan with a pinch of Disney fairy dust thrown in. Theme park junkie. If you've created a rom-com I've probably watched it.