Why Jimmy Kimmel Gets Beat In The Ratings, According To Jay Leno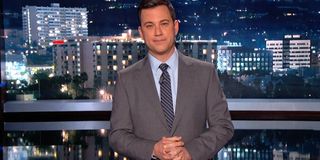 Jay Leno has had some tiffs in the late night realm with David Letterman over the years, but now the former late night host has come out of retirement to take some pot shots at ABC's late night host Jimmy Kimmel. After having pretty sweet things to say about NBC's Fallon, NBC's Seth Meyers and CBS' upcoming late night host Stephen Colbert, in a recent interview Leno said that Kimmel has a "mean streak" to blame for being lower in the ratings than Fallon.
I find it a little bit ridiculous that Leno is taking his own "nice guy" attitude and using it to trash one of the other late night hosts in this interview with TV Insider, but he certainly has a point. While I personally love Kimmel segments—especially "Liewitness News" and "Mean Tweets"—not everyone can get behind the fact that those sketches are a little more vicious than the other late night hosts' segments. For instance, Fallon mostly loves to play games with celebrities, and Meyers often loves to rehash stuff that happened during his SNL days.
Kimmel, unlike some of the other late night hosts, is an edgier and more acquired taste in comedy. He's the guy that's willing to take pot shots at anti-vaccinators. He's the guy that's willing to get into ridiculous prank wars with Rihanna. And yes, he's the guy that's willing to let parents steal candy from their kids on Halloween and serve dads food in the showers on Father's Day.
If Kimmel is one end of the late night spectrum than Jimmy Fallon is the other. He's so overwhelmingly energetic and positive, you can't help but buy into his humbled perspective. Still, I'd argue there's room for both types of personalities on the networks, and I really hope that Colbert will land somewhere in between the two personalities when his show hits CBS this September.
The late night realm is a wily beast, hard to tame and even harder to master. When Jay Leno was the big game on the air, he was the most popular of the late night hosts, so he knows a thing or two about bringing in the biggest numbers. Then again, he didn't have the late night sendoff or the longstanding good wishes that David Letterman received when his oddball CBS series finally made its last bow. As such, it's not surprising he would prefer a late night host who uses good vibes to bring in big numbers, rather than the one who uses a meaner, edgier tone to please hardcore comedy fans.
Amazing Race & Top Chef superfan with a pinch of Disney fairy dust thrown in. Theme park junkie. If you've created a rom-com I've probably watched it.
Your Daily Blend of Entertainment News
Thank you for signing up to CinemaBlend. You will receive a verification email shortly.
There was a problem. Please refresh the page and try again.